Breaking series conventions with Breath of the Wild
Speaking at GDC, Nintendo's Hidemaro Fujibayashi, Satoru Takizawa, and Takuhiro Dohta revealed how The Legend of Zelda: Breath of the Wild was born from a desire to break with the conventions of the series.
Speaking at GDC, Nintendo,s Hidemaro Fujibayashi, Satoru Takizawa,and Takuhiro Dohta revealed how The Legend of Zelda: Breath of the Wild was born from a desire to break with the series' long-standing conventions.
This is the first in our three-part report on the Breath of the Wild session from GDC 2017. The 90 minute talk was an extremely in-depth examination of the many decisions the development team made in creating Link's latest adventure, so we'll be breaking our coverage into three to ensure we cover as much of the detail as possible.
A new approach for Breath of the Wild
Hidemaro Fujibayashi has a long history with the Zelda franchise, having worked on titles including Oracle of Ages, Oracle of Seasons, The Minish Cap, Phantom Hourglass, and the Wii's Skyward Sword. In taking the role of game director on The Legend of Zelda: Breath of the Wild, he wanted to take a fresh approach that would discard many traditions from the long-running series.
As development of Breath of the Wild started, Fujibayashi asked himself what he wanted to do with a new Zelda title, and then, what did he need to do to make it happen?
"The key to answering these questions was in rediscovering the essence of what Zelda was and then breaking those conventions," Fujibayashi says.
"What I wanted to accomplish with this new Zelda was to create a game where the user can truly experience freedom. This means a game where the user can think and decide on their own where they go and what they want to do."
Taking this approach meant an entire rethink in how the world of Breath of the Wild would need to be envisaged and built. As Fujibayashi considered how to achieve his ambition he was reminded of the first Legend of Zelda game that was released on the Nintendo Entertainment System. In particular found an appreciation in the way game would continually surprise the player.
"Every time the screen scrolled there was something new to discover," Fujibayashi says. "I thought to myself, maybe what I need to do is go back to the essence."
Creating a sense of freedom is one thing in a two-dimensional, 8-bit game, but another challenge entirely when applied to a complex three-dimensional game world.
The Zelda games are generally considered to be semi-open world but, as Fujibayashi explained, they are in fact tightly structured. For one thing, Zelda games usually have a predetermined sequence of events. Secondly, many of the environments act as impassable walls. The result is predetermined experience that an illusion of freedom.
In his desire to create what Fujibayashi terms an 'active game' these conventions would have to be challenged.
"The first step in designing the game was to re-examine these conventions and put our sights on changing the structure of the game from one where you play within the confines of a pre-prepared mechanism, to one where the user can actively engage with the game," explains Fujibayashi.
"Our first approach was to remove those impassable walls, by transforming them and allowing the user to climb them."
By changing the nature of walls they became another path for the player to use. This opened up the entire landscape in a new way for the player and added verticality to the experience.
"It was at this point I realised that this was the kind of game design I was striving for, and it held the potential to create the active game I had envisioned."
Of course, having given the player the ability to climb anywhere, the next question was how to get them down again.
"You jump!" says Fujibayashi. "By introducing an action whereby you can glide through the air with an item, once you climb you can glide to wherever you want. I felt that this was the crucial ingredient that would expand the sense of freedom for the user in the new Zelda."
A puzzling challenge
Many of the puzzles found in Zelda games are based on natural phenomena or simple scientific facts. This helps the player easily understand what the rules are, and then helps them to solve the puzzles. The burning of a rope with a torch in Wind Waker is just one such example.
"It's not a stretch to say that the objects that made up these puzzles were made specifically for those puzzles," says Fujibayashi. "This, of course, allows us to fine-tune and polish the gameplay experience, but unfortunately it requires a lot of resource."
Fujibayashi had the idea of using multiplicative gameplay, essentially creating a set of mechanics and methods that could be scaled and multiplied consistently throughout the game world.
"I wondered if I could use this idea of multiplication and apply it to the mass production of these puzzles," he says.
The intention was to make the game so that objects react to the player's actions, and the objects themselves could also influence each other.
"If we could do this I felt that we might be one step closer to creating an active game," Fujibayashi says.
To test his hypothesis Fujibayashi took the concept and tested it in a recreation of the original NES Legend of Zelda. This 2D prototype – in actual fact, a three-dimensional game engine – was used to prototype the multiplicative gameplay mechanisms.
This small sandbox allowed the development team to test many the of Breath of the Wild's interactions at a base level. In one example, 8-bit Link uses the trunk from a felled tree to jump back and forth across a river.
"This prototype does not include any puzzles. All we did was provide a situation involving a river and some trees, but the user is then able to think for themselves and create a path forward," Fujibayashi says. "In this simple setup there was only one rule: there's a simple goal, can you reach it?"
"And when the players' diverse actions, items, landscape, and objects that react in various ways, are multiplied together using this simple rule, an active game was created where countless different events occurred for which the user can freely create solutions."
---
In our second report from this GDC talk we'll hear how Takuhiro Dohta, technical director on Breath of the Wild, used physics and chemistry to bring Fujibayashi's vision to life.
Dan Marshall: It was 'astonishingly easy' to add accessibility options
Dan Marshall, of Size Five Games, says adding accessibility features to Lair of the Clockwork God was "all pretty straightforward, easy work."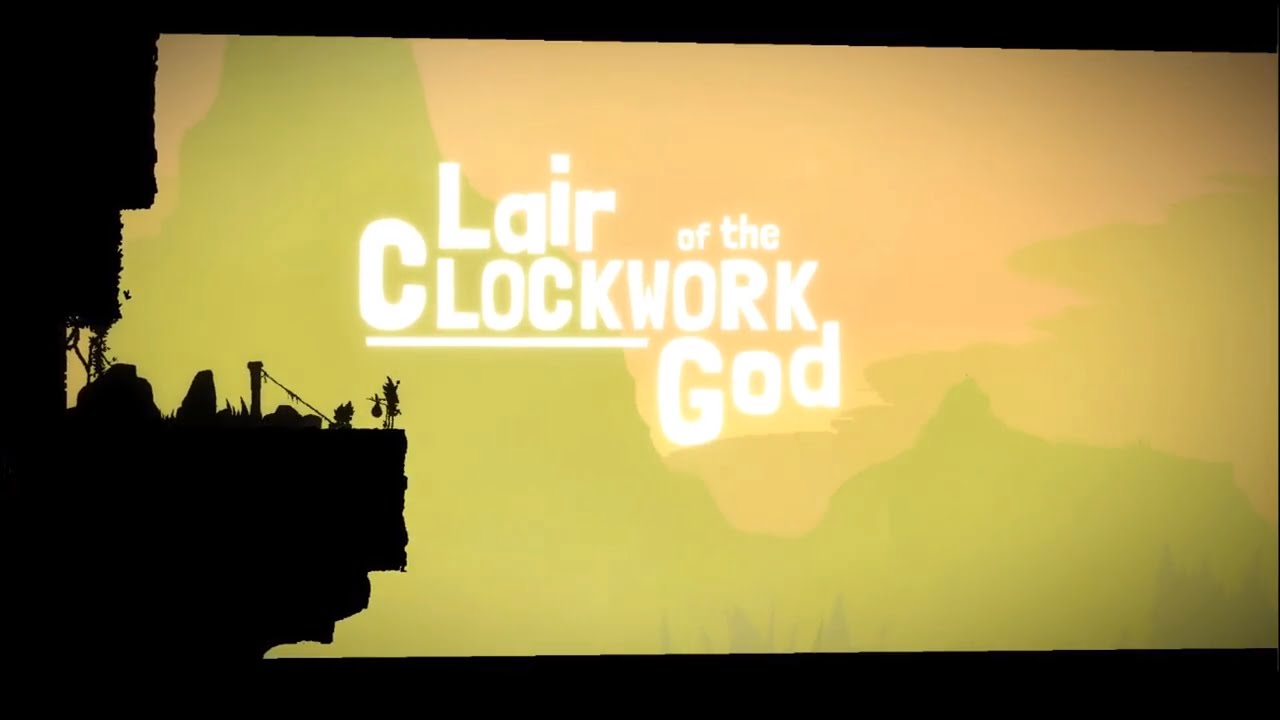 Dan Marshall, of Size Five Games, says adding accessibility features to Lair of the Clockwork God was "all pretty straightforward, easy work."
The year is 2020. Technology has never been more advanced. And yet, we live in a bizarre, regressive world where anti-vaxxers are on the rise, the UK is leaving the EU of its own volition, and the President of the United States yells at an autistic teenage girl for daring to suggest that his generation perhaps doesn't ruin the planet for future generations.
In the world of video games, one obvious symptom of this intellectual vacuum is the anti-accessibility crowd. From gatekeepers who want to preserve the rarity of their "achievements" to those who are simply incapable of human empathy, there are still people who don't believe video games need accessibility features. In 2020.
They're dead wrong, by the way. (And if you disagree with that, maybe don't read our website? We're big advocates of accessibility in games and we're frankly better off without you, thanks.)
Dan Marshall, of Size Five Games, spent a few hours this weekend adding accessibility features to upcoming game Lair of the Clockwork God. A sequel to Time Gentlemen, Please! and Ben There, Dan That!, Clockwork God is a mash-up of indie platformer and the series' classic point-and-click adventure mechanics. It's obviously a text-heavy game.
We spoke to Marshall via email, to ask about the process of making Lair of the Clockwork God more accessible, and why it's important.
"I have been useless at all this stuff," Dan concedes, "but the reality is it's always good to make sure the game can be enjoyed by as many people as possible. Getting a game out the door is hard, and I do think it's understandable when this kind of stuff hasn't been implemented, because that pre-launch to-do list is so incredibly long, and especially for smaller indies who have such astonishingly low resources."
"So for me, this kind of thing has always sadly fallen off the back burner," he continues. "This time around I'm in the fortunate position to have the cash and resources behind me to spend a little time thinking about and implementing a few minor changes, that make the game so much more enjoyable for so many people."
Added some accessibility options for #ClockworkGod's dialogue system. If there's anything else you think I should add, please let me know 🙂#indiedev #gameDev #screenshotSaturday pic.twitter.com/12Be4wwS7l

— Dan Marshall (@danthat) January 25, 2020
"Oddly enough, Lair of the Clockwork God's themes kind of deal with all this," Marshall explains. "By the nature of the beast, that it's written by and starring two straight white guys… I mean, there's obviously nothing we can do about that, so we've tried to be mindful every step of the way making sure the game is as inclusive elsewhere as possible."
"The script itself deals head-on with topics like the 'wokeness' of the indie scene, or getting older and feeling out of place with new trends and other peoples' needs… y'know in the game Ben's this kind of relic from the LucasArts era, and Dan's desperately keen to be part of this new vibrant indie movement he's heard so much about, so taking the steps to make the whole game as accessible as possible kind of goes hand-in-hand with all that."
So how easy has the process been, to add accessibility options to Lair of the Clockwork God?
"Astonishingly easy, to be honest. I spent about 4-5 hours total adding 9 core changes (including some that people had recommended over Twitter), and honestly," Marshall says, "it was all pretty straightforward, easy work, which is exactly what I need right now. In the scheme of things, that's probably less time than I spent choosing the colour of the options menu, so it's worth doing."
"And yeah, some of it was just unbelievably quick. Two lines of code and a new toggle added to the menu and it's in. So why not do it? There's obviously some bigger stuff that's likely to let's say, break everything, and I'll do my best to get them in before launch. Lesson learned for the next project is: it's just sensible to keep this stuff in mind the whole way through!"
For little more than an afternoon's work, Lair of the Clockwork God is now a far more accessible experience.
Clockwork God now includes options for a dyslexic-friendly font, and adjusting the size, colour, speed, and labelling of text to make it easier for everyone to follow. This might not seem like a big deal if you don't need it, but it will literally be the difference between someone being able to play the game or bouncing off it.
The year is 2020. Fictional Ben may be insistent that Lair of the Clockwork God's mechanics stay rooted in 1991, but just like his in-game counterpart, real-life Dan is making sure it's a modern video game, too.
---
Follow Thumbsticks on Twitter for the best video game stories. Got something you'd like to share with us? Our DMs are open.