Tokyo 42 Review
Do you dream of electric cats? What do you mean, "no more Blade Runner references"? Fine. Here's our Tokyo 42 review.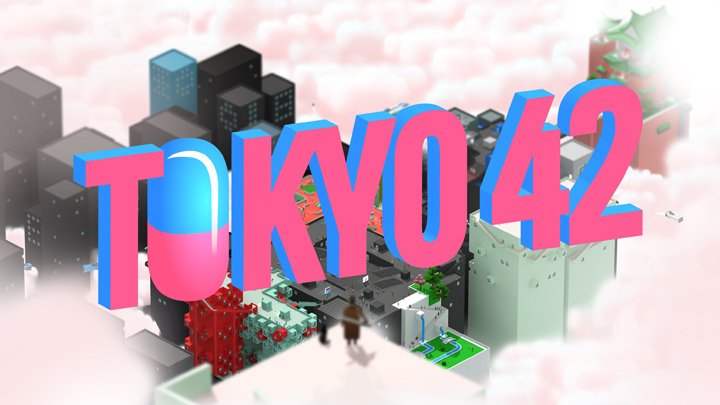 Do you dream of electric cats? What do you mean, "no more Blade Runner references"? Fine. Here's our Tokyo 42 review.
The extent to which references can be on display varies between different media pieces, and whilst the presence of remediation is certainly not a new concept – and post-modernism itself is ironically getting on a bit now – Tokyo 42 feels like it's shouldering this philosophical weight.
The game's own creators describe it as a "lovechild of Syndicate and GTA 1", and as a starting point of understanding Tokyo 42, that is definitely accurate. That is not to say that its gameplay fails to advance beyond these two titles from the 90s, as the baggage of the last decade – most notably Ubisoft style capture zones, as well as parkour – is also present.
The parkour enlivens the game the most, and the environment is built around the fact that the player has more significant movement prowess than often found in games with an isometric visual style. The city is a sprawling metropolis that feels much larger than it actually is. The mobility comes into its own with the verticality of the environments on offer. Often a target will be hiding out at the top of a tower block or high up structure, with their underlings dotting the landscape beneath them.
It is these (what may as well be called assassination) missions that dominate much of the game. There is some freedom as to how these missions can be approached; nominally they can be achieved via stealth, but typically they turn into an exercise of shooting everything that moves. Due to the carefully constructed, albeit open, environments, there exists multiple strategies that can be utilised in order to survive and take down the target. In the process of reaching the target, it is likely you will die multiple times – maybe not in the earlier missions, but more frequently in the latter stages – making mistakes, working out the best approach through trial and error. Enemies, aside from bosses, are killed in one hit, but you can be as well.
With its somewhat overhead perspective (with a cute isometric slant) and one hit deaths and kills, Tokyo 42 can at times feel similar to indie shooter Hotline Miami. Although to its credit the save system, for the most part, is much more forgiving, only setting you back a couple of minutes of playtime compared to half a mission or more in Hotline Miami. The main difference, however, is that Tokyo 42 quickly turns into a 'bullet hell' game, making the one hit death aspect of the game a much more challenging prospect; especially towards the end of the game where it becomes an act of testing one's patience.
Aside from the missions, it is Tokyo itself that makes you want to stick with the game. The 2042 depiction of the city shares very little with the Tokyo of today, instead appearing more as a pastiche of East Asian design; resulting in something that has more in common with Ghost in the Shell and Blade Runner, both of which are heavily inspired by Hong Kong of the 1980s. The main difference, though, is that instead of a drab dystopian future, Tokyo in 2042 awash with bright colours reminiscent of the clean-cut aesthetic of The City from Mirror's Edge. But just like in Mirror's Edge, something darker lurks underneath in Tokyo 42.
The comparisons with Ghost in the Shell and Blade Runner extend to the soundtrack as well, with choral chants occasionally featuring. At other times Vangelis' music may as well have been used directly, given how similar it sounds. Despite its overt use of auditory references, they have been incorporated incredibly well into the game and help to keep you immersed in the world and the action taking place; suitably upbeat when guns are out, and more soothing when just exploring the city.
The story of Tokyo 42 is forgettable and reductive, playing out cyberpunk tropes whilst carrying an air of Philip K Dick to it. This is more akin to his novels rather than subsequent film and TV adaptations, which often lose the quirky charm that made his written work so memorable. Tokyo 42 doesn't achieve the same levels of charm, but at least it realises that not everything has to be stern and serious when dealing with matters of corruption.
The basic premise of Tokyo 42 is that your character has been framed for the death of journalist and in turn sees you very quickly working with the all-seeing Nu-Baba as you set out to find the "truth". Meanwhile you need to turn your attention towards the activities of the leading pharmaceutical company; one that, it appears, has turned death into only an inconvenience. This would create a narrative explanation as to why your death provides no punishment, but it makes death cheap (and is something the game exploits later, providing an alternative punishment).
Tokyo 42 as a whole is weirdly inconsistent; it has its own identity and style, yet simultaneously relies on the work of other media pieces. It uses references wholesale, such as a not-so-subtle nod to Twin Peaks as an aside, which turns the end of mission into a joke. Its gameplay mechanics, meanwhile, will introduce new elements like the ability to electronically change what you look like – which is very Dickian – but ultimately relies on old-school GTA style shooting for most of its gameplay. And the less said about the, thankfully optional, motorcycle missions the better.
Tokyo 42
Summary
As an experience, Tokyo 42 is worth your attention, but unfortunately, its gameplay and mission design become a hindrance as you progress, losing the spectacle that was notable from the start. It might at times feel reductive due to heavy reliance on other references, but it does manage to construct an identity of its own in spite of this. Tokyo of 2042 provides plenty of distractions, and it's likely that it is this that will help it stand out amongst its contemporaries.
Call of Juarez: Gunslinger – Nintendo Switch review
Call of Juarez: Gunslinger is the latest in an increasingly long list of last-generation game to grace the Nintendo Switch. Is it an Old West epic or a penny dreadful?
Call of Juarez: Gunslinger is the latest in an increasingly long list of last-generation game to grace the Nintendo Switch. Is it an Old West epic or a penny dreadful?
Revisiting older games on Nintendo Switch often serves as a reminder of how much things have changed in the last decade. Call of Juarez: Gunslinger is one such example. Originally released on PC and consoles in 2013, it received a warm welcome and won acclaim for its clever storytelling techniques.
In the intervening years, game narratives have evolved in intriguing ways, the digital Wild West has been redefined by Red Dead Redemption 2, and the FPS genre – despite remaining the same on a mechanical level – has become increasingly entwined with RPG mechanics. Call of Juarez: Gunslinger is a throwback to a time when those seeds were being sewn. In some respects, it still feels modern, but in others, the lines of age are showing.
The good news is that Call of Juarez: Gunslinger still spins a wonderful yarn. The player assumes the role of Silas Greaves, a dyed-in-the-wool bounty hunter who regales a saloon of drunkards with far-fetched tales of his exploits. Each story ticks off a who's who of Wild West icons, with the likes of Billy the Kid, Johnny Ringo, and The Wild Bunch all making guest appearances.
If it sounds improbable that one man would cross paths with so many legendary outlaws, that's because it probably is. Silas Greaves is the most unreliable of narrators, weaving a tapestry of deeds and perils, of heroes and villains, of lies and half-truths. Like just the real frontier, where stories were passed on, changed and embellished by word of mouth, Greaves creates folklore that is all his own.
It's more than window dressing, however. Each story Silas recounts changes the game in interesting ways. Whole sequences rewind and play out entirely differently as Silas remembers – or reinvents – his tale. Environmental features – a ladder or a cave, for example – appear on the fly as he conjures up an escape route from a sticky situation. Enemies will even pop in and out of existence as Greaves endeavours to entertain the eager ears of his audience. And that audience also has an impact, calling Silas out on his tall tales with corrections that are then reflected in-game. The result is a story told with economy and humour in a way that feels authentic to the setting.
The skilful storytelling helps to obscure the fact that the game is a fairly standard first-person shooter. It's a mostly linear affair in which various ne'er do wells considerately offer themselves up for headshots with blithe indifference. It's a not a subtle game, either. Each level is ripped straight from Hollywood's Wild West, with locations ranging from dusty towns and dangerous gold mines to foggy swamplands and mountain-perched railroads. It's a pleasingly familiar greatest hits package, and all the better for it.
Gunplay also feels good, with a selection of close, mid and long-range weapons all having weight and punch. Aiming can also be fine-tuned with help from the Nintendo Switch's gyroscope, and the console's HD rumble is also put to effective use.
Call of Juarez: Gunslinger also shows how the FPS genre was evolving with its simple progression system. Points are awards on how you dispatch your opponents – headshots are best, naturally – and as you level-up, perks unlock across three categories: Gunslinger, Ranger and Trapper. Each upgrade offers a welcome boost, although it's often hard to feel the benefit as – on the standard difficulty at least – this is not a particularly tough game.
The game's trickiest – and most frustratingly repetitive moments – are found in its duels and boss encounters, both of which are textbook examples of live-die-repeat game design. The game also attempts to expand upon on Red Dead Redemption's dead eye mechanic for duel encounters. Unfortunately, the method of using both thumbsticks to maintain hand position and focus is unnecessarily fussy.
As for the quality of the Nintendo Switch port, it's good news. Call of Juarez: Gunslinger runs at a consistent clip, with some occasional slowdown only evident during the game's more demanding moments. It also looks decent enough, while some locations – such as the Union Pacific railroad bridge – are quite beautiful.
The performances are also noteworthy. The late John Cygan gives Silas Greaves a pleasing blend of world-weariness and pent-up rage, and his ongoing commentary throughout each level is another delightful narrative flourish. Pawel Blaszczak's excellent soundtrack also sounds the part and features some memorable themes.
Elsewhere, collectable Nuggets of Truth offer a potted history of the game's cast of characters. Completionists can replay campaign levels to find them all, and there's an enjoyable arcade mode for some bite-sized sharpshooting thrills.
Call of Juarez: Gunslinger is no substitute getting Red Dead Redemption on Switch, but as a whistle-stop tour through a theme park of iconic Wild West moments, it's a whole heap of fun. The game shows its age, but the use of an unreliable narrator pays off in spades. It's a small scale adventure by modern standards, but one worth revisiting, particularly on Switch where there's a comparative dearth of enjoyable shooters.
Call of Juarez: Gunslinger
Summary
---
Platform: Nintendo Switch
Developer: Techland
Publisher: Techland
Release Date: December x, 2019
---
Call of Juarez: Gunslinger comes to Nintendo Switch in fine fettle. A solid port with plenty of memorable moments cover the cracks to make it a wild west story worth retelling.