Tokyo 42 Review
Do you dream of electric cats? What do you mean, "no more Blade Runner references"? Fine. Here's our Tokyo 42 review.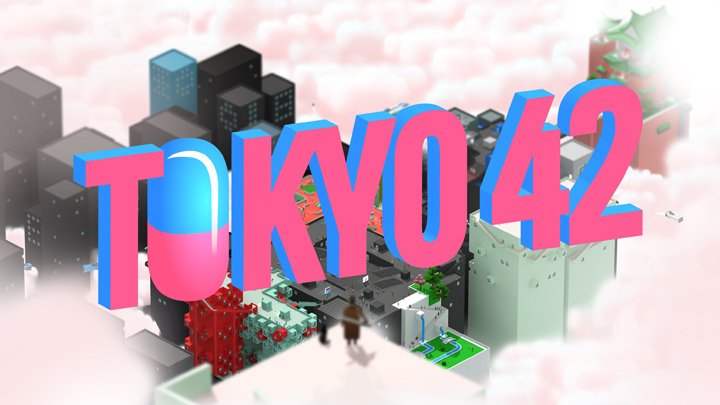 Do you dream of electric cats? What do you mean, "no more Blade Runner references"? Fine. Here's our Tokyo 42 review.
The extent to which references can be on display varies between different media pieces, and whilst the presence of remediation is certainly not a new concept – and post-modernism itself is ironically getting on a bit now – Tokyo 42 feels like it's shouldering this philosophical weight.
The game's own creators describe it as a "lovechild of Syndicate and GTA 1", and as a starting point of understanding Tokyo 42, that is definitely accurate. That is not to say that its gameplay fails to advance beyond these two titles from the 90s, as the baggage of the last decade – most notably Ubisoft style capture zones, as well as parkour – is also present.
The parkour enlivens the game the most, and the environment is built around the fact that the player has more significant movement prowess than often found in games with an isometric visual style. The city is a sprawling metropolis that feels much larger than it actually is. The mobility comes into its own with the verticality of the environments on offer. Often a target will be hiding out at the top of a tower block or high up structure, with their underlings dotting the landscape beneath them.
It is these (what may as well be called assassination) missions that dominate much of the game. There is some freedom as to how these missions can be approached; nominally they can be achieved via stealth, but typically they turn into an exercise of shooting everything that moves. Due to the carefully constructed, albeit open, environments, there exists multiple strategies that can be utilised in order to survive and take down the target. In the process of reaching the target, it is likely you will die multiple times – maybe not in the earlier missions, but more frequently in the latter stages – making mistakes, working out the best approach through trial and error. Enemies, aside from bosses, are killed in one hit, but you can be as well.
With its somewhat overhead perspective (with a cute isometric slant) and one hit deaths and kills, Tokyo 42 can at times feel similar to indie shooter Hotline Miami. Although to its credit the save system, for the most part, is much more forgiving, only setting you back a couple of minutes of playtime compared to half a mission or more in Hotline Miami. The main difference, however, is that Tokyo 42 quickly turns into a 'bullet hell' game, making the one hit death aspect of the game a much more challenging prospect; especially towards the end of the game where it becomes an act of testing one's patience.
Aside from the missions, it is Tokyo itself that makes you want to stick with the game. The 2042 depiction of the city shares very little with the Tokyo of today, instead appearing more as a pastiche of East Asian design; resulting in something that has more in common with Ghost in the Shell and Blade Runner, both of which are heavily inspired by Hong Kong of the 1980s. The main difference, though, is that instead of a drab dystopian future, Tokyo in 2042 awash with bright colours reminiscent of the clean-cut aesthetic of The City from Mirror's Edge. But just like in Mirror's Edge, something darker lurks underneath in Tokyo 42.
The comparisons with Ghost in the Shell and Blade Runner extend to the soundtrack as well, with choral chants occasionally featuring. At other times Vangelis' music may as well have been used directly, given how similar it sounds. Despite its overt use of auditory references, they have been incorporated incredibly well into the game and help to keep you immersed in the world and the action taking place; suitably upbeat when guns are out, and more soothing when just exploring the city.
The story of Tokyo 42 is forgettable and reductive, playing out cyberpunk tropes whilst carrying an air of Philip K Dick to it. This is more akin to his novels rather than subsequent film and TV adaptations, which often lose the quirky charm that made his written work so memorable. Tokyo 42 doesn't achieve the same levels of charm, but at least it realises that not everything has to be stern and serious when dealing with matters of corruption.
The basic premise of Tokyo 42 is that your character has been framed for the death of journalist and in turn sees you very quickly working with the all-seeing Nu-Baba as you set out to find the "truth". Meanwhile you need to turn your attention towards the activities of the leading pharmaceutical company; one that, it appears, has turned death into only an inconvenience. This would create a narrative explanation as to why your death provides no punishment, but it makes death cheap (and is something the game exploits later, providing an alternative punishment).
Tokyo 42 as a whole is weirdly inconsistent; it has its own identity and style, yet simultaneously relies on the work of other media pieces. It uses references wholesale, such as a not-so-subtle nod to Twin Peaks as an aside, which turns the end of mission into a joke. Its gameplay mechanics, meanwhile, will introduce new elements like the ability to electronically change what you look like – which is very Dickian – but ultimately relies on old-school GTA style shooting for most of its gameplay. And the less said about the, thankfully optional, motorcycle missions the better.
Tokyo 42
Summary
As an experience, Tokyo 42 is worth your attention, but unfortunately, its gameplay and mission design become a hindrance as you progress, losing the spectacle that was notable from the start. It might at times feel reductive due to heavy reliance on other references, but it does manage to construct an identity of its own in spite of this. Tokyo of 2042 provides plenty of distractions, and it's likely that it is this that will help it stand out amongst its contemporaries.
Enjoyed this article?
Found it interesting, entertaining, useful, or informative? Maybe it even saved you some money. That's great to hear! Sadly, independent publishing is struggling worse than ever, and Thumbsticks is no exception. So please, if you can afford to, consider supporting us via Patreon or buying us a coffee.
Super Mario 3D All-Stars review
Super Mario 3D All-Stars on Switch rises above a host of small niggles to remind us that when it comes to gameplay, Nintendo's Italian plumber is still king.
Super Mario 3D All-Stars on Nintendo Switch rises above some small niggles to remind us that when it comes to gameplay, Super Mario is still king.

I'm not sure what it would take to satisfactorily celebrate the anniversary of an icon with Super Mario's legacy and stature. It's evident, however, that Super Mario 3D All-Stars has fallen short of what some fans hoped for. And although it's easy to be disappointed by what this new Nintendo Switch collection doesn't include, it's thankfully easier to be entertained, enthralled, and exhilarated by what it does.
Super Mario 3D All-Stars features three titles plucked from the Nintendo 64, GameCube and Wii eras. Two of them are universally acknowledged as classics. The other is a divisive title, ripe for reappraisal. Each game runs in high-definition with a few modest enhancements such as improved HUD elements and some updated art assets. HD rumble is another welcome addition. Super Mario 64, in particular, benefits from the subtle pulses and purrs that now support Mario's acrobatics.
This anniversary collection is completed by three soundtracks, and that's it. If you're a fan of Digital Eclipse's work with the Mega Man franchise, for example, I expect you'll be disappointed by what's on offer here. Put simply, 3D All-Stars is a compilation of three classic games presented as close to their original format as is possible given the requirements of modern HD televisions. It is the bare minimum, then, although it's worth noting that all three games look splendid nonetheless.
Super Mario 64
Much of the disappointment surrounding this collection is directed at the presentation of Nintendo 64 classic, Super Mario 64. Unlike Activision's Crash Bandicoot and Spyro trilogies, the All-Stars version of Super Mario 64 is not a remake, but it's also not a full remaster. Instead, it's the Japanese Shindō Pak Taiō version of the game presented in 4:3 ratio at 720p resolution. The frame-rate is locked tight at 30 fps, but the in-game camera is still the Lakitu-controlled experiment of incremental positioning it was in 1996. The one concession to modern gameplay expectations is a switcheroo of the horizontal camera axis, from inverted to normal.
All of this would be a problem were it not for the game still being absolutely brilliant. Those black borders on the side of the screen are disappointing, but then I tumble into a strange swirling pool of colour and land in a subterranean maze. I long jump across a ravine to escape a nasty bug. I weave through a path of tumbling boulders. I plunge into a pool of water and climb on to the back of a sea monster. I discover a small island topped by a ring of gleaming coins with a glowing star at its centre. I take the star, and I win. It's an action movie refined into 84 blissful seconds.
That's the magic of Super Mario 64. The game's age is almost its defining feature. Displayed in HD and released from the fuzz of a CRT screen, it looks dynamite, even at 720p. Sure, a full visual makeover would be an interesting exercise, but there's also a chance it would shine a harsh light on the game's limits and those hazy, out of reach borders. There is an innate beauty in the simplicity of its polygons simplicity. Unlike its successor, every shape and colour in Super Mario 64 feel deliberately positioned to create the ultimate digital playground. Whereas the muted, earthy tones The Legend of Zelda: Ocarina of Time benefit from its Nintendo 3DS upgrade, Super Mario 64 looks and feels timeless.
For me, revisiting Super Mario 64 is an exercise in flexing 24 years of muscle memory. Newcomers might struggle with its camera or find some the trickier platforming sequences frustrating, but Mario can still turn on a dime, wall bounce with grace, and triple jump with a finesse that no other video game character can muster. Age can not diminish that, and it never will.
Super Mario Sunshine
Super Mario Sunshine has always been considered the black sheep of Mario's 3D family. It was acknowledged as a minor classic in 2002, but over time it has been quietly pushed aside and forgotten, like a misguided holiday romance.
On Nintendo Switch, Sunshine finds itself upscaled to 1080p and given much-needed room to breathe with a 16:9 aspect ratio. These welcome changes are offset by a stubborn refusal to allow the inverted aiming controls to be changed, despite a reversal of the horizontal camera. The F.L.U.D.D. mechanics have also been migrated from one pressure-sensitive GameCube trigger to two digital shoulder buttons on Switch.
It's not an ideal compromise, especially when combined with the game's wayward camera and looser approach to level design. All of this would be a problem were not for the game being such a uniquely singular Mario experience. Aiming F.L.U.D.D. is needlessly counter-intuitive, but then I swan-dive into a stream of water, and I forget all about it. I slide down a hill and launch into a jump. I bounce from a rope and hover in the air, held aloft by two jets of water. I climb a windmill to battle Petey Piranha in a mess of water, goo, and ground-pounds.
Super Mario Sunshine is a hodge-podge of the sublime and the ridiculous, a vacation of wild highs and hangover headaches. It's a flawed, scruffy game by Nintendo's standards, but I predict those expecting a disaster will be pleasantly surprised.
Super Mario Galaxy
Of the games in this collection, Super Mario Galaxy requires the least amount of polish from a visual perspective. Nintendo's artistry looks wonderful in 1080p, and the game runs a silky smooth 60 fps without any hiccups. The implementation of the Wii version's motion controls is more of a mixed bag, however.
In docked mode, you can play with a Pro Controller or two Joy-Cons. They work well enough, but the motion aiming is not as precise as Wii players will recall, and the absence of an infrared sensor means frequent recalibration.
In handheld mode, these actions are transferred to the Switch's touchscreen. It's an obvious solution, but in practice, some of the more intricate levels result in a spaghetti of fingers as your hand moves back and forth from the controller to the screen in quick succession. Thankfully, Mario's spin-jump can now be performed with a simple tap of the Y button.
All of this would be a problem were it not for the game remaining one of the purest distillations of platforming ever committed to silicon. The touchscreen controls can be fiddly in the heat of the moment, but when that moment is a journey across a galaxy featuring castle planets, physics-defying bridges, a glass space station with constantly flipping gravity, and a gauntlet of lava-filled boulders, those problems fade away. It's simply a joy to watch this version of Mario in action, bending the rules of space and motion across a series of varied and outrageously imaginative environments.
It's striking how significantly video games changed in the decade between Super Mario 64 and Super Mario Galaxy, and how little they have evolved since. Despite Super Mario Odyssey's obvious achievements, it sits firmly in Galaxy's shadow. It's another outright classic from Nintendo and a masterpiece of video game construction.
Super Mario 3D All-Stars review
Summary
---
Platform: Nintendo Switch
Developer: Nintendo
Publisher: Nintendo
Release Date: September 18, 2020
---
Super Mario 3D All-Stars is a limited time release in both physical and digital formats. We can only guess at the reason but whatever misgivings you have about the nature of this collection – or its position as Nintendo's big fall release – it's still an essential purchase. All three games look better than ever and provide hours and hours of exquisitely designed and consistently inventive entertainment.
Enjoyed this article?
Found it interesting, entertaining, useful, or informative? Maybe it even saved you some money. That's great to hear! Sadly, independent publishing is struggling worse than ever, and Thumbsticks is no exception. So please, if you can afford to, consider supporting us via Patreon or buying us a coffee.