Everybody's Gone to the Rapture: Dan Pinchbeck interview
It's a busy old week for Brighton-based studio The Chinese Room.
It's a busy old week for Brighton-based studio The Chinese Room. 
Today sees the release of the massively anticipated Everybody's Gone to the Rapture – a masterclass in first-person experiential storytelling with nary a crowbar or shotgun in sight – and it's something of a big deal.
Excitement has been building over this one for some time and it's finally here, but Dan Pinchbeck, Creative Director of The Chinese Room, very kindly found a few minutes to answer our questions before heading off for some well-deserved rest and relaxation:
Thumbsticks: Congratulations on the release of Everybody's Gone to the Rapture! The world and his dog (ourselves included) have been aquiver with excitement for its release; were you surprised at how a slow-paced, combat-free storytelling experience seems to have captured the attention of the gaming world?
Dan Pinchbeck: Yeah! The first-person story game has been building for a while now – it's definitely a different world to when we first made Dear Esther as a mod back in 2007 – but it's still amazing to think people are really excited about something you've made. We're just really grateful that people like what we do.
The critical response has also been excellent; have you any indication on sales performance you can share with us? Any pre-order or download figures?
We don't have any of that information as it's all handled by Sony – it'll be a while before we get to know how well it's done. It's just one of those things you get used to if you are not self-publishing, it was the same with Machine for Pigs. The critical response is just amazing though, can't quite believe a game as left-field as this has done so well.
We're captivated by the environment in Everybody's Gone to the Rapture – it's like stepping through a window into our collective childhood here at Thumbsticks! It feels like a very personal love-letter from The Chinese Room to a time and place long gone; can you tell us about your inspiration for it and the process of bringing it to life?
Well, Jess and I both grew up in the 80s so I think there's a lot of that. But also we just really care about the worlds we build, it's a big part of who we are as developers. Getting that sense of place, of believability is crucial and we invest a lot of time and effort into it. We are looking forward to being able to go outside without seeing everything in terms of whether we could use it in the game though – the biggest inspiration is literally on the doorstep.
And how did it feel, the first time you 'walked' around the completed environment?
It's never that simple, I wish it was! It's such a long and complicated process that you have to remind yourself of what it is you've made from time to time. Especially at the end, you walk around and all you see are issues and bugs, and you have to be really careful to keep remembering what this thing is. It's why it's so rewarding to finally get it out into the world and get people's responses back – who are experiencing it as a fully realized world and are getting so immersed into it. That's special, it makes it all worthwhile.
Were you ever worried that the rest of the world wouldn't 'get' the period British feel?
Not really. I'm a huge fan of Stalker and Metro and they are really squarely Eastern European in feel and sense of place, and it doesn't stop you from getting it. We've always taken the line that we think gamers are smart, imaginative people and if you work from that basis, they are usually up for new experiences. And you have to believe in what you are making, and that the themes in Rapture are, despite the very specific setting, kind of universal.
Jessica Curry's score is really quite remarkable. In a game like Everybody's Gone to the Rapture, where the pace is slower and there's no 'action' to speak of, just how important is the music to the overall experience?
It's absolutely critical. We're very lucky that our composer is also a creative lead on the project, so she's been instrumental to the whole design process, and her music is just fundamentally interwoven into Rapture at the very core. It's game as much about the soundtrack as the dialogue. When we starting prototyping I said to Jess that I wanted a player to be able to play the whole thing without dialogue and just music, and still understand the game emotionally. I think it's an incredible thing that she's pulled off.
Speaking of audio, the voice cast is an amazing combination of British acting talent and video game voice over stars, led by the wonderful Merle Dandridge. Was assembling such a strong cast difficult for a small studio?
We worked with Side UK who were absolutely fantastic and provided us with an amazing list of actors to choose from. To be honest with you, most of the decisions were pretty simple – we just heard the voices and went "That's Lizzie!", "That's Stephen!" and so on. Kate was more difficult, but one of the team suddenly went "Hang on – what about Merle" – we got on the phone to her agent and luckily it all worked out. What was really special was starting to rehearse the game and the characters just coming to life around us – the cast did a really amazing job.
And was there anybody that you really wanted to lend their voice to the game, that didn't work out?
I wouldn't change a thing. I think the cast are near perfect.
Bloodborne, The Last of Us, Uncharted – you're joining some illustrious PlayStation-exclusive stablemates – how did the relationship with Sony and the SCE Santa Monica Studio come about?
Ha, well it was pretty simple to begin with – we literally dropped them an email saying we loved the work they were doing and that they had a reputation as being incredibly supportive of new titles that were trying different things and that we'd like to work with them… and three years later, here we are.
And what was it like working so closely with Sony for the first time; did you find more doors were open to you than before, or was working with one of the largest publishers a more restrictive experience than The Chinese Room were used to?
It's swings and roundabouts. Yes, there are trade-offs, of course there are, because you are one small product in a massive corporation, and you have to understand that. It means there can be strangeness and frustration from time to time when you are used to being able to act completely unilaterally as a self-publishing developer, but we'd already had experience working with a publishing partner in Frictional, so it wasn't all unexpected. And there are many benefits as well – we couldn't have made Rapture without Sony and for us, it's doing whatever is needed in order to make the game we want to make, and there are many opportunities we've had through the relationship we could never have had ourselves, so it's all good.
Some of our readers may not be familiar with the history of the studio – or the John Searle thought experiment it's named after – can you tell us a little about how you got started, from Half-Life mods at university to Dear Esther?
The game came out less than 24 hours ago, so I'm going to plead Google on that one!
After the cult success of Dear Esther, The Chinese Room have been open and honest about some of the difficulties faced on the Amnesia: A Machine for Pigs project with Frictional Games; was that experience difficult to bounce back from?
Yeah, you have to learn from your mistakes, and we made mistakes on Pigs and it's important to be honest about those. There's no point otherwise, you just end up lying to yourselves. We're still pretty proud of Pigs, even if it was a bit painful at the end of development – it's a good game, it just could have been a much better game. But that's OK. You have to hold onto the positives but learn honestly from what you can improve from.
So what's next for The Chinese Room, then? Do you have any more projects on the horizon?
Of course, but they are top secret. We're looking to do something pretty different next.
And finally, now that Everybody's Gone to the Rapture has been released and the team (hopefully) gets a bit of rest, what games are top of your playlist?
So many – I've got a huge backlog, haven't really been playing for the last few months. I just re-started Deus Ex: Human Revolution the other night, as I'm so excited about the new game coming out. I've got that, I've got Valley of the Yeti's to finish and then a stack about a mile high of titles I haven't had chance to play!
---
Order Everybody's Gone to the Rapture exclusively from the PlayStation Store now.
You can also purchase Jessica Curry's beautiful Everybody's Gone to the Rapture soundtrack from Amazon.
Dan Marshall: It was 'astonishingly easy' to add accessibility options
Dan Marshall, of Size Five Games, says adding accessibility features to Lair of the Clockwork God was "all pretty straightforward, easy work."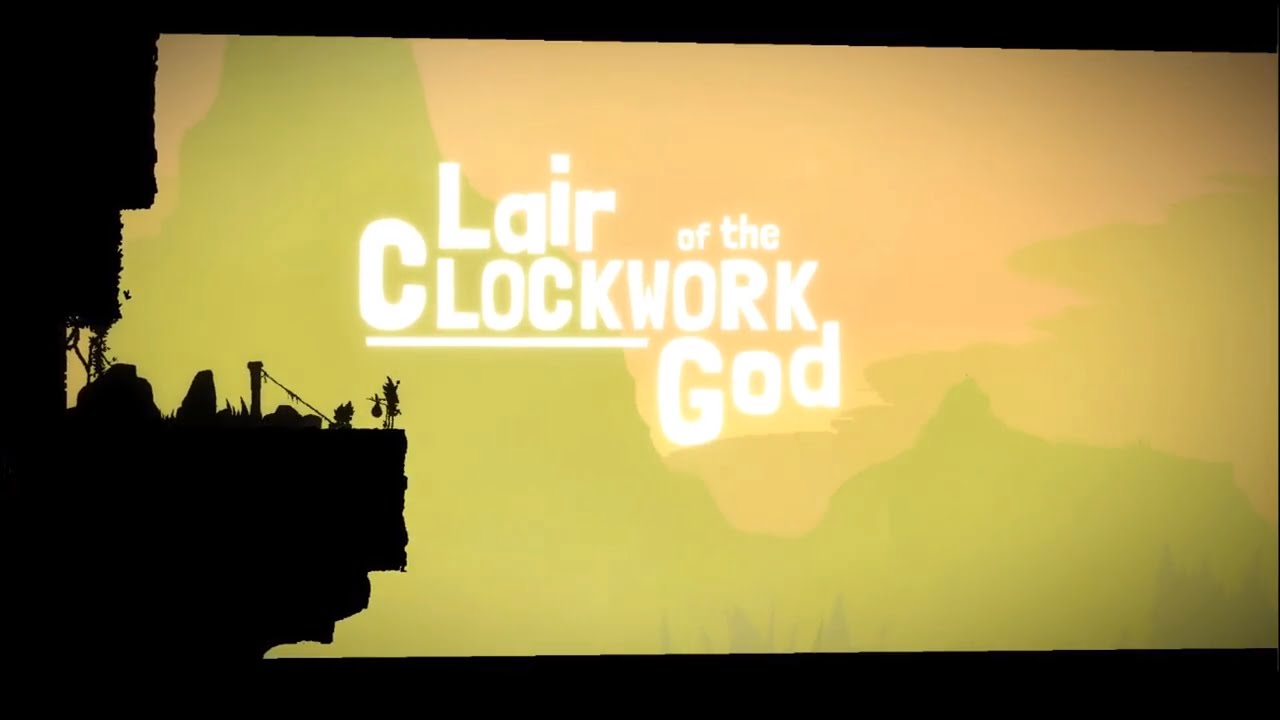 Dan Marshall, of Size Five Games, says adding accessibility features to Lair of the Clockwork God was "all pretty straightforward, easy work."
The year is 2020. Technology has never been more advanced. And yet, we live in a bizarre, regressive world where anti-vaxxers are on the rise, the UK is leaving the EU of its own volition, and the President of the United States yells at an autistic teenage girl for daring to suggest that his generation perhaps doesn't ruin the planet for future generations.
In the world of video games, one obvious symptom of this intellectual vacuum is the anti-accessibility crowd. From gatekeepers who want to preserve the rarity of their "achievements" to those who are simply incapable of human empathy, there are still people who don't believe video games need accessibility features. In 2020.
They're dead wrong, by the way. (And if you disagree with that, maybe don't read our website? We're big advocates of accessibility in games and we're frankly better off without you, thanks.)
Dan Marshall, of Size Five Games, spent a few hours this weekend adding accessibility features to upcoming game Lair of the Clockwork God. A sequel to Time Gentlemen, Please! and Ben There, Dan That!, Clockwork God is a mash-up of indie platformer and the series' classic point-and-click adventure mechanics. It's obviously a text-heavy game.
We spoke to Marshall via email, to ask about the process of making Lair of the Clockwork God more accessible, and why it's important.
"I have been useless at all this stuff," Dan concedes, "but the reality is it's always good to make sure the game can be enjoyed by as many people as possible. Getting a game out the door is hard, and I do think it's understandable when this kind of stuff hasn't been implemented, because that pre-launch to-do list is so incredibly long, and especially for smaller indies who have such astonishingly low resources."
"So for me, this kind of thing has always sadly fallen off the back burner," he continues. "This time around I'm in the fortunate position to have the cash and resources behind me to spend a little time thinking about and implementing a few minor changes, that make the game so much more enjoyable for so many people."
Added some accessibility options for #ClockworkGod's dialogue system. If there's anything else you think I should add, please let me know 🙂#indiedev #gameDev #screenshotSaturday pic.twitter.com/12Be4wwS7l

— Dan Marshall (@danthat) January 25, 2020
"Oddly enough, Lair of the Clockwork God's themes kind of deal with all this," Marshall explains. "By the nature of the beast, that it's written by and starring two straight white guys… I mean, there's obviously nothing we can do about that, so we've tried to be mindful every step of the way making sure the game is as inclusive elsewhere as possible."
"The script itself deals head-on with topics like the 'wokeness' of the indie scene, or getting older and feeling out of place with new trends and other peoples' needs… y'know in the game Ben's this kind of relic from the LucasArts era, and Dan's desperately keen to be part of this new vibrant indie movement he's heard so much about, so taking the steps to make the whole game as accessible as possible kind of goes hand-in-hand with all that."
So how easy has the process been, to add accessibility options to Lair of the Clockwork God?
"Astonishingly easy, to be honest. I spent about 4-5 hours total adding 9 core changes (including some that people had recommended over Twitter), and honestly," Marshall says, "it was all pretty straightforward, easy work, which is exactly what I need right now. In the scheme of things, that's probably less time than I spent choosing the colour of the options menu, so it's worth doing."
"And yeah, some of it was just unbelievably quick. Two lines of code and a new toggle added to the menu and it's in. So why not do it? There's obviously some bigger stuff that's likely to let's say, break everything, and I'll do my best to get them in before launch. Lesson learned for the next project is: it's just sensible to keep this stuff in mind the whole way through!"
For little more than an afternoon's work, Lair of the Clockwork God is now a far more accessible experience.
Clockwork God now includes options for a dyslexic-friendly font, and adjusting the size, colour, speed, and labelling of text to make it easier for everyone to follow. This might not seem like a big deal if you don't need it, but it will literally be the difference between someone being able to play the game or bouncing off it.
The year is 2020. Fictional Ben may be insistent that Lair of the Clockwork God's mechanics stay rooted in 1991, but just like his in-game counterpart, real-life Dan is making sure it's a modern video game, too.
---
Follow Thumbsticks on Twitter for the best video game stories. Got something you'd like to share with us? Our DMs are open.