10 Great Side-Scrolling Arcade Beat 'Em Ups Of The 80s And 90s
As someone who was born in the early 1980s, I was around when gaming really started to get serious.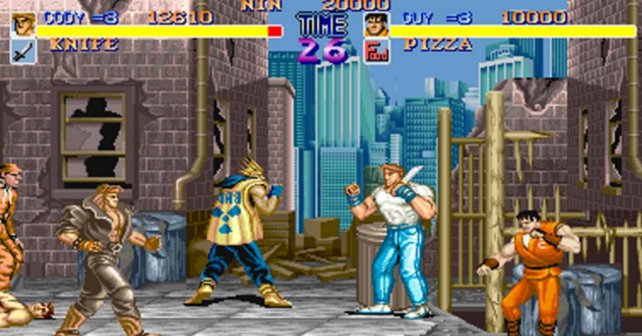 As someone who was born in the early 1980s, I was around when gaming really started to get serious.
I began actually playing video games in the late 1980's (mostly at home on platforms like the Commodore 64 and Atari ST) and, for the first ten years or so of my gaming life, coin-operated arcade games were the pinnacle of the gaming industry.
My favourite genre was undoubtedly the side-scrolling beat 'em up. This type of game generally featured melee combat between the protagonist (human player) and an improbably large number of varied NPC enemies (mostly very weak flunkies).
Although this kind of gaming has now evolved to feature more open, three-dimensional environments, the traditional side-scrolling beat 'em ups take place in right-to-left scrolling, two-dimensional levels.
This side-scrolling beat 'em up dominated the industry and, in particular, the video game arcades of the 80s and 90s and were enjoyed by millions.
With that in mind, here are 10 great side-scrolling arcade beat 'em ups of the 80s and 90s…
10. P.O.W: Prisoners of War (1988)
Playing as 'Snake' or 'Bart', up to two players could play at once in this 1988 classic.
The aim of P.O.W: Prisoners of War was (as you would expect, judging by the title) to escape from the enemy's prisoner of war camp, fighting your way through four stages, as hordes of opposition soldiers attempt to prevent you from doing so.
The game's four stages were a P.O.W camp, a warehouse, a jungle and the enemy's base of operations. Enemies you had to fight against included foot soldiers, commandos and green berets.
Controls were pretty basic and bog standard for this type of game – essentially you could walk, jump, punch, kick and headbutt, while machine guns and knives could be picked up to utilise against your foes.
My main memory of this game comes from playing it on a daily basis in a 7-Eleven convenience store whilst on holiday in Florida in 1993 – five years after its initial release. It was still comparatively decent when put up against the more recently released titles at the time.
9. Renegade (1986)
Taking on the role of a streetwise vigilante whose girlfriend has been kidnapped, Renegade is undoubtedly one of the more influential early games in this particular genre.
Although it is indeed a side-scrolling beat 'em up, the playing area of each playing zone – separated in to four stages – was limited to the width of two screens and didn't scroll continuously.
In the first three stages, the player would fight the enemies – namely street thugs both on foot and on motorcycles  and both male and female – until only three remained. At that point, the stage boss would appear. If the boss was killed before his/her underlings, said underlings would retreat.
The fourth and final stage sees the player fighting a wave of knife-wielding thugs who could kill with one hit, before entering a building on the far right of the screen for the final fight – against three more knife-wielding thugs and the mob-boss, who wielded a gun which could also kill with one hit.
After defeating the final boss, the player rescues his girlfriend and is rewarded with a kiss, before returning to stage one to replay the game on an increased difficulty level.
I recall playing this in a local arcade and proceeding to purchase the Commodore 64 version from a local toy store. The Commodore 64 version being, obviously, quite inferior.
8. Cadillacs and Dinosaurs (1993)
As far as gaming concepts go, this was certainly one of the more… imaginative (for 'imaginative' read 'crazy').
I actually only played this a couple of times upon its initial release, but I remember it being a lot of fun. It is only in the past few years, having played it on an arcade emulator, that I have become fully accustomed to it and it is still very enjoyable to play to this day.
Essentially, Cadillacs and Dinosaurs was based on the comic book series Xenozoic Tales by Mark Schultz – an alternative comic in which the Earth of the future has been ravaged by pollution and natural disasters. As a result, humans built vast underground cities in which they lived for approximately 600 years to escape the situation above ground. When they re-emerged, the humans found that the world had been reclaimed by previously extinct lifeforms – including dinosaurs.
Playing as either Jack Tenrec, Hannah Dundee, Mustapha Cairo or Mess O'Bradovich (each of whom had their own advantages and disadvantages), up to three players at a time took up the mission to defeat the thuggish hordes of Dr. Simon Fessenden – a mad scientist who wanted to populate the world with dinosaur-human hybrids.
Occasionally, the titular Cadillacs could be driven by the players during gameplay, whilst the titular dinosaurs were neutral NPCs who could potentially attack either the human players or their thuggish NPC opponents.
Cadillacs and Dinosaurs was a weird but brilliant game with vibrant graphics and crisp gameplay.
7. Captain Commando (1991)
Another vibrantly coloured futuristic game with crisp gameplay was Capcom's wonderful Captain Commando. It's another game that I only played a small number of times around the time of its initial release, but have recently revisited via an arcade emulator.
Set in 2026 in a future where criminal activity is rife, Captain Commando revolves around the titular character and his 'Commando Team' – a team of heroic misfits who have banded together to fight the crime that has gripped our planet (and indeed our galaxy).
The band of misfits include the Captain himself, Mack the Knife (a mummy-like alien being who uses sub-sonic knives), Ginzu the Ninja (a highly trained ninja who utilises a very sharp sword) and the very weird Baby Head (a super-genius baby who fights inside a mecha-suit that he designed himself.
Human players could play as all four characters at the same time in co-op mode on the arcade version, as they fought their way through nine stages of enemies to ultimately defeat 'Scumocide' – the diabolical genius who had genetically engineered his own army of super-criminals.
The final battle sees the human player(s) going up against Scumocide himself, in his laboratory – the hulking enemy floats around, firing balls of energy at the player(s).
Following the defeat of Scumocide, it is announced to the world that the villain has been defeated and the titular hero appears on screen to address the people. The government official who is making the announcement asks who the man on screen is and he simply replies…. "Captain Commando" (in a very monotone, 1990s computerised voice).
6. Kung-Fu Master (1984)

This was the original side-scrolling beat 'em up and one that was past its best by the time I first played it – but it was a classic and highly enjoyable nonetheless.
The human player takes the role of Keiji Thomas – a simple man who wears a Keikogi training uniform and slippers. Keiji's girlfriend, Sylvia, has been kidnapped by the man known only as 'Mr. X' and Thomas must fight through five side-scrolling floors full of martial artist enemies and, in the later levels, dragons, snakes and poisonous moths to rescue her.
Each level has a boss (who will laugh in a very annoying manner if they beat you) and must be completed within a specified time limit, otherwise the player is adjudged to have failed and it is game over. If a player wins, Keiji rescues his girlfriend and the game restarts on a higher level of difficulty.
Controls were pretty simple in this one; you could punch with one button, kick with another and jump and crouch with the joystick.
Kung-Fu Master was certainly not as good as the other entries in this list, but it was enjoyable enough and paved the way for the other games. For those reasons, it is undoubtedly a classic.
5. The Simpsons (1991)
As The Simpsons rose to prominence and began to become popular around the world, merchandise in the form of toys, clothing, furniture, electronic media and confectionary (I could go on) were practically impossible to avoid.
Cue the release of a fantastically playable arcade beat 'em up.
The Simpsons Arcade Game revolved around a plot in which the Simpson family inadvertently stumble upon Waylon Smithers and two accomplices robbing a jewellers in Springfield. A diamond from the stolen haul ends up in Maggie Simpson's mouth and, instead of just grabbing the diamond, Smithers takes Maggie. This results in Homer, Marge, Bart and Lisa heading off to rescue Maggie from the possession of Smithers and Mr. Burns.
Up to four players could play this game at once. As Homer, the player would simply punch and kick. As Marge, the player would use a vacuum cleaner as a weapon. As Bart, the player would use a skateboard as a weapon. And, as Lisa, the player would use a skipping rope as a weapon.
The family had to battle through eight stages – set in different Springfield locations – against Mr. Burns' employees and goons, until ultimately facing off against a bomb-throwing Smithers and Mr. Burns in a plutonium-powered armoured vehicle. Once defeated, Maggie would appear and the Simpsons could return to their family home.
The game featured a number of innovations, including the ability to execute double-team moves – the different combinations of characters would produce different attacks.
Overall this was a highly addictive enjoyable game that did The Simpsons franchise justice. I recall playing it extensively at the time of release and have played it many times more recently on arcade emulators.
4. Teenage Mutant Ninja Turtles (1989)
When the Teenage Mutant Ninja Turtles (or Teenage Mutant Hero Turtles, as they were known in Europe) were the 'in-thing' amongst kids in the late 1980s and early 1990s, an arcade game was released that took the gaming world by storm.
With its pioneering 4-player simultaneous gameplay, this was co-op coin-op at its finest.
Having seen their mentor Splinter and friend April O'Neil kidnapped by their arch-enemy Shredder, the turtles had to  battle through five stages to save them – coming up against armies of foot soldiers and bosses that included Bebop, Rocksteady and Baxter Stockman – ultimately ending in the Technodrome where they must defeat Krang and Shredder.
The human player could play as Leonardo, Donatello, Michelangelo or Raphael (or any combination of the quartet) in their quest and the game was alot of fun. It was teaming with turtle-based humour and the sound, animation and gameplay were damn impressive – especially for the time it was released.
I remember playing this on the cross-Channel ferry to keep myself occupied on the way to a camping holiday in France. A true arcade classic.
3. Double Dragon (1987)
This 1987 side-scrolling beat 'em up is often the first one that gamers who were around in that era think of – and with good reason. Double Dragon is an absolute classic.
It also happens to be the first one I ever played in a local seaside amusement arcade.
Taking control of either of two twin brothers – Jimmy or Billy Lee – or indeed both simultaneously, the human player would fight their way through three different stages (a slum, a factory and a wooded area) in to the fourth and final stage – the main turf of the dreaded 'Black Warriors' gang – in order to rescue Maria, their common love interest.
Moves range from basic punches and kicks to hair-pulling and elbow strikes, whilst weapons could be acquired from enemy hands (baseball bats, knives, whips etc).
Upon completing the game in single player mode – by defeating the final boss – the game was over and the controlled character won the girl. Upon completing it in two player mode, the two players would then have to fight each other in order to decide which one of them won the girl's affections.
2. Golden Axe (1989)
Set in the fictional land of Yuria, Golden Axe tells the tale of how the evil 'Death Adder' has kidnapped the land's King and his daughter and is holding them captive in his castle.
It is then down to the human player (or players, as there was a two player mode), playing as either the male warrior (Ax Battler), the female warrior (Tyris Flare) or the dwarf (Gilius Thunderhead), to battle through various stages – filled with warriors of varying kinds, including men armed with clubs and maces, skeletons and knights – to reach Death Adder's castle and defeat him, rescuing the King and his daughter and obtaining the golden axe; a weapon which would imbue them with immortality.
Each of the playable characters had a reason to want Death Adder dead; The dwarf's twin brother was killed by Death Adder, the male warrior's Mother was killed by Death Adder and both of the female warrior's parents were killed by Death Adder.
The game had a number of interesting aspects, including the ability to ride steeds (such as dinosaurs and dragons) and the ability to obtain little pots of magic from imps to use to launch mystical attacks on your opponents.
The arcade version of this game was fantastic, but the Sega Mega Drive version – which I owned and played the hell out of – came pretty close and also had a survival mode reminiscent of the format seen in the likes of Street Fighter and Mortal Kombat style fighting games.
Golden Axe is another genuine classic with great graphics and thrilling gameplay that will long be remembered.
1. Final Fight (1989)

Originally intended to be a sequel to the original Street Fighter game, Final Fight was undoubtedly the best side-scrolling beat 'em up in the arcades of the 80s and 90s. In fact, I'd go as far as saying that it is the ultimate side-scrolling beat 'em up.
Based in the fictional Metro City, the premise of Final Fight is that Mike Haggar (an ex-wrestler and current mayor of Metro City), Cody (a martial artist) and his friend Guy (a fellow martial artist) are on a mission to rescue Jessica from the 'Mad Gear' gang (Jessica is Mike Haggar's daughter and Cody's girlfriend).
The player(s) must take control of Haggar, Cody or Guy (or any two of them in co-op mode) in order to fight through six stages filled with Mad Gear's most violent thugs. Utilising knives, metal pipes and swords (amongst other weapons) along the way, the player(s) must defeat the thugs and a boss at the end of each stage in order to rescue Jessica and bring order back to Metro City.
The graphics in Final Fight were second to none back in the day and the gameplay was absolutely unrivalled. I remember the villains being so massively varied; from fat men who would literally bowl you over, to seven-foot-tall wrestlers and from women with whips to generic punks. I also recall bonus rounds between levels which included smashing up a car as much as possible.
I vividly remember that my Mother worked in an office next to a leisure centre when I was younger and that there was a Final Fight arcade machine in the leisure centre. Whenever it was the school holidays, often I would have to accompany my Mother to work and the amount of money I blew on this game doesn't bear thinking about!
A truly iconic game (I still occasionally play it on an arcade emulator to this very day!).
So, did this bring back any memories? What were your favourite coin-operated side-scrolling beat 'em ups back in the day? Please feel free to let us know in the comments below!
---
Want the real arcade experience at home? Pick up an arcade stick from Amazon!
Subscribe to the Thumbsticks newsletter to get a weekly round-up of our articles.
Enjoyed this article?
Found it interesting, entertaining, useful, or informative? Maybe it even saved you some money. That's great to hear! Sadly, independent publishing is struggling worse than ever, and Thumbsticks is no exception. So please, if you can afford to, consider supporting us via Patreon or buying us a coffee.
We ranked every fictional video game in The Simpsons
We ranked every fictional video game featured in The Simpsons. Why? Because lockdown does funny things. It changes you.
We ranked every fictional video game featured in The Simpsons. Why? Because lockdown does funny things. It changes you.
From the over-the-top 80s action of McBain movies to the legitimately brilliant Planet of the Apes – the musical, not the planet – The Simpsons has parodied a wide array of 20th/21st century pop culture. But as you can (hopefully) tell by the name and content of the site, we're here to talk games.
There has been a lot of video game-related stuff on the show over the years, from parodies to completely fictional games – check out some great Nintendo references here – but what if these fictional games were real? What if we had access to a certain slipper-wearing Professor from the year 3000's fabled 'What If' machine?
We've scoured 31 years of history to bring you a ranking of every fictional game in The Simpsons.
Disclaimer: Only games that have clear footage and a name have been included. That sadly means no Nuke Canada, no Assassins Creed Summer of Love, or the retro game Bart plays with Grandpa. Zii Sports and Dance Dance Evolution weren't included either as they are too close to their real-world counterparts.
So join us as we rank the various fictional games in The Simpsons as if they were real.
40. Billy Graham's Bible Blaster
A fun retro curiosity, but considering this deposited some cash into Billy Graham's heavenly bank account, let's just move on.
39. Word Jammers
Take my word for it, this game is definitely not your jam.
38. Astro Blast
It doesn't take an astrophysicist to work out that this game is a ripoff of Asteroids.
37. Kevin Costner's Waterworld
More like Dull-as-Dishwaterworld and a rip-off to boot. A game to avoid.
36. Bowling 2000
Having 2000 in the title doesn't do much for this mediocre Game Boy bowling game.
35. Frosty The Hitman
The only hit you'll get with this game is the road.
34. Mixed Martian Arts
This game doesn't have anything positive to say about it to warrant the "mixed Martian bag" joke I so desperately wanted to say.
33. Grand Theft Walrus
I am the egg man. They are the egg men. I am the Grand Theft Walrus (an insignificant game not worth remembering). Amazing how many of these titles are built purely around a pun, isn't it?
32. Low-Blow Boxing
As entertaining as giving yourself a low blow. Maybe less so.
31. Fruit Shoot
A simplistic light gun game that's not worth one of your five a day.
30. Rocky III vs Clara Peller
Why does this game exist? The only adequate answer I can come up with is so that I could write the following sentence: Clara Peller found her beef… and it's with Sylvester Stallone.
29. Baby Blast
Nintendo tried to nuke this unlicensed baby boomer from orbit, but alas failed. It lives on through various Gameboy emulators.
28. The Iceman Killeth
Met with an icy reception when it released on the Xbox 360, it's best to give this abominable snowman FPS the cold shoulder and move on.
27. Marching Band
After the success of Guitar Hero and Rockband, Activision stumped the world with Marching Band. The E3 reveal is still one of the most baffling moments of the trade shows history, up there with Mr Caffeine and the vitality sensor.
26. Dash Dingo
Dash Dingo ate my Crystal Baby. That's all you need to know about this average 3D platformer that belongs with the rest of the Z-list heroes from the fifth generation. Maybe in an upside-down Downunderverse, Dash was as successful as his bandicoot brethren, but sadly, not in our world.
25. Tandem Bike Ride With Your Mum
Released on the ill-fated Gizmondo handheld console – and if you can get past the just passable gameplay – Tandem Bike Ride With Your Mum earns some respect for including a mother into a medium that favours fathers.
24. Stickball
The old arcade game Stickball would be a good candidate for a modern-day remake. Imagine a fully realised downtown New York that replicates the feeling of playing street baseball with a ragtag selection of neighbourhood kids.
23. Plague Station 3
Much like how the 2003 third-person shooter Armed and Dangerous is only remembered for the gun that shoots land sharks, Plague Station 3 will only be remembered for the gun that shoots monkeys that claw at the enemies face.
22. Waltz Waltz Revolution
Although not very successful, the using of a dance mat to teach actual dancing was a novel idea.
21. Bar Brawl 4: Final Fracas
The only memorable aspect of Bar Brawl 4 is that it introduced a slipping mechanic into a fighting game a full year before Super Smash Bros Brawl would do the same. Was Sakurai inspired by this game? Anything is possible.
20. Halloween Hit & Run
Halloween Hit & Run is what happens when you take the infamous hit and run scene from Troma's Toxic Avenger and make a whole game out of it. Not to be confused with the Halloween level from the not-in-universe Simpsons Hit and Run.
19. Cat Fight
In spite of all the stereotypes this game perpetuates (and some rather questionable language) it contains far less sexualisation of women than your typical fighting game, and as a result, must be commended.
18. Virtual Doctor
Released for PC in 2000, Virtual Doctor was a passion project of Yuji Hori, the creator of Dragon Quest. Unfortunately for Hori, Virtual Doctor was a huge failure and coupled with the delays of Dragon Quest VII and later Dragon Quest Monsters 2, left publisher Enix badly bruised. Thankfully, the merger with Square Soft in 2003 allowed Enix to recover – just what the (virtual) doctor ordered.
17. Earthland Realms
Unless someone asks you for a much better alternative, the MMORPG Earthland Realms will not make you say "wow."
16. Cereal Killer
Have you ever felt the need to take out your anger on a bunch of whimsical breakfast cereal mascots? If so, then Cereal Killer is the game for you. It's also the only FPS (out of barely 20) on Nintendo's Gameboy Advance that lets you wield two weapons at the same time. How's that for going against the grain?
15. Triangle Wars
An ingenious blend of Asteroids and Tetris, Triangle Wars had a surprisingly deep plot. The three warring factions of the Isosceles, the Equilateral and the Scalene all attempting to reach the furthest point of the Euclidean Galaxy to ascend to the realm of higher dimensional beings, the Simplex.
14. Death Kill City II: Death Kill Stories
Usually abbreviated as DKC (and confused with a certain Nintendo 2D platformer series) Death Kill Stories II is known for its shocking plot twist. In an attempt to out edgy its rivals, the first level in DKC II destroys all life on earth. A race of vampiric robo-mutants arise from the depths of the ruined earth and become your next target. Considering the first DKC was simply a GTA clone, this new post-apocalyptic setting was a nice change of pace.
13. Hockey Dad
Probably the only hockey/fighting game hybrid in existence, Hockey Dad should be applauded for its genre-defying antics – oh and introducing drunken dad Chuck Shadowski into the pantheon of great games characters.
12. Guts of War II: Entrails of Intestinox
After God of War 2 director Cory Balrog left Santa Monica Studio to hone his craft on his creative walkabout, he was asked to work on the sequel to Guts of War. Originally hesitant to work on a franchise so similar to his previous work, he came to the conclusion that the intestinal weapons of Guts of War protagonist, Kranus, were different enough to give the game its own personality. Entrails of Intestinox was fairly well-received but criticised for its notorious short length and for allegations of a strenuous crunch period the developers went through.
11. Escape from Grandma's House
It's rumoured that Escape From Grandma's House was the inspiration behind Resident Evil 3's Nemesis. Capcom has yet to confirm this.
10. Yard Work Simulator
The original plans for Yard Work Simulator included far more controllers than the final product's garden shears and rake controllers. One can only imagine what the planned wheelbarrow, garden hose and long-handled spade shovel controllers would've brought to this fairly simple virtual reality experiment. (And how much landfill they would've produced, like so many Wii peripherals and plastic guitars.)
9. Panamanian Strongman
A peculiar arcade game where you try to keep balance on top of a skyscraper whilst fending off the US Military's fighter planes. Kojima, take note: This is how you integrate a fun balance mechanic into your game.
8. Lee Carvallo's Putting Challenge
Lee Carvallo's Putting Challenge was one of the few games to have its cartridge enhanced by the 3F07 chip. This allowed the game to have an abundance of digitised voice clips recorded by Lee Carvallo himself. By no means the best golf game of this era, it was unique in that it felt like Carvallo was right there in your living room, helping you perfect your swing with his insightful suggestions.
What seemed like a death knell – releasing at the same time as the mighty Bonestorm – was actually a surprising boon. Many a parent opted for Carvallo as a runner-up prize when they realised that Bonestorm would be sold out long through the Christmas period.
7. Larry the Looter
Before Grand Theft Auto, there was Larry the Looter. A fairly difficult arcade loot 'em up, you'll have to have fast reactions to avoid the shotgun blasts of the poor shopkeepers protecting their property. The genius of Larry the Looter though, was it's lack of exposition; it never bores the player with an explanation of why Larry's world was tormented by mass riots and instead leaves this to the player's imagination. You dropped into this mad world as your primal instincts kick in and force you to stick it to the man.
6. Disembowler IV
Much like how Luigi's Mansion originally started out as a fishing game prototype, so too did Disembowler IV. After the success of Doom and Mortal Kombat in the early 90s, many companies tried to cash in on this violent video game craze, and Disembowler IV was born. The eponymous rusty hooks that the cast of convicted criminals use are a callback to the game's origin. Don't be fooled by the sneaky Roman numerals, however – there was no Disembowler I, II and III. This was merely a marketing gimmick that actually led to significant sales.
5. Touch of Death
Initiate the dreaded 'Touch of Death' and exorcise the ghost from your beaten enemies corpse in this classic arcade fighter. Touch of Death's popularity was due to it's simple yet accessible control scheme with its three attack buttons – oh, and ninjas. Everyone loves ninjas. Although Touch of Death has a reputation as a Mortal Kombat klone, it actually released two years before the first Mortal Kombat.
4. Super Slugfest
In a lot of ways, Super Slugfest was superior to Nintendo's Punch-Out!! – just take one look at the graphics – but a lack of celebrity endorsement meant it was always second fiddle. Mike Tyson carried Punch-Out!! to incredible success, which was a shame for Super Slugfest as it had a highly entertaining multiplayer mode that its Nintendo counterpart lacked.
3. My Dinner with Andre
The phrase "ahead of its time" has been overused aplenty, but the licensed video game adaptation of Louis Malle's 1981 classic My Dinner with Andre is undoubtedly ahead of its time. In an era where a film would translate into a 2D run-and-gun or beat 'em up, the ambitious developers of My Dinner With Andre explored new territory with this interactive dialogue pioneer that predates Mass Effect, Telltale, games and various immersive and dating sims. "Tell me more" indeed.
2. Escape From Death Row
It should come as no surprise that Escape From Death Row was made by the same developers as Larry the Looter. You can see their anti-establishment DNA all over Death Row, from the prison escape scenario to a conservative judge as an antagonist you must overcome. Although the platforming was fairly weak compared to its contemporaries, the 'change of venue' system was an interesting mechanic that gave the player a risky last-ditch effort if they felt there time was nearly up.
1. Bonestorm
The iconic fighting game that sent many a parent/guardian to hell with its boisterous "Buy me Bonestorm or go to Hell!" marketing campaign, Bonestorm led to a gory Christmas for many in 1995. As the name suggests, Bonestorm is a cacophony of blood and guts and probably the best Mortal Kombat klone in existence (sorry, Killer Instinct). The only blemish on this ultra-violent fighting game is the archaic eight-letter limit for choosing a name.
---
You should follow Thumbsticks on Flipboard, Facebook, Google News, and Twitter for daily video game nonsense. You know, only if you want to.
Enjoyed this article?
Found it interesting, entertaining, useful, or informative? Maybe it even saved you some money. That's great to hear! Sadly, independent publishing is struggling worse than ever, and Thumbsticks is no exception. So please, if you can afford to, consider supporting us via Patreon or buying us a coffee.