Cut Scenes: BioShock vs. Tim Burton's Batman
Cut Scenes is Josh Wise's regular column on the intersection between film and video games. This week, it's BioShock vs. Batman.
Cut Scenes is Josh Wise's regular column on the intersection between film and video games. This week, it's BioShock vs. Batman.
Built in the 1940s, visited in the 1960s, and jettying out into the future: Rapture is a place of a specific time, yet so too is it entirely outside of time. Art Deco, Gothic, and a place of enormous contrivance, it shares its spirit with another vague and vivid metropolis – Gotham City.
In particular, the Gotham City Anton Furst wrought for Tim Burton's Batman. Brought to life with 18 sound stages and almost the entire 95-acre backlot at Pinewood, at the time of its construction it was the biggest set ever built – which makes Furst something of an Atlas.
Furst imagined this Gotham a composite of "the worst aspects of New York," envisioning a city with no zoning restrictions – much as Andrew Ryan would. Gothic churches vie for space with brutalist metal museums, Art Deco town halls with grimy urban diners. Painted sets of distant bridges and factories, clearly false, shroud Gotham in a wintery firmament – a city in a snow globe.
Ken Levine and his team at Irrational weaved similar illusions to mask their constraints. Rapture's painted facades quaver outside every window, giving the illusion of massive scale. When we venture into the web of that blood-gorged spider, Sander Cohen, in Fort Frolic, we know at once how it felt to be in Michael Keaton's boots in that moonlit bell tower atop Gotham Cathedral.
Cohen, with pencil moustache and boot-polish hair, is a raving reflection of Salvador Dali. Slathered in that waxy gloss the seventh generation of consoles was so charmed by, he looks like a bizarre artwork himself – a lone figure at the centre of a Dada collage, drowning in the blues and clamour of the 20th century.
Like all the great Batman villains, Cohen is possessed of an idea. This idea trumps all else – morality, consequence, certainly legality, life and death. The Riddler cares, above all else, about riddles; Two-Face with the idea of duality, and chance; The Joker with primal chaos, with the hilarity of cosmic indifference. Cohen cares only for Art – his art.
After bloviating on the immortal beauty of his gruesome works, Cohen descends his grand staircase, dressed in a tuxedo and rabbit mask, to an adoring crowd that not only isn't there, but never was. He's a hack and knows it, dreads it, but refuses to let his mask slip. As he walks down, Waltz of the Flowers by Tchaikovsky plays.
Batman, in a mirrored act of refusal, climbs a rotting staircase as it crumbles beneath his feet. He goes to face the Joker in a pas de deux to the death. The spectacle refuses to take itself seriously: bells chime; henchmen somersault; the Joker dances with a limp Vicki Vale dressed in white; while Danny Elfman's Waltz to the Death plays them all off. The games people play.
Batman, like his villains, refuses to let his mask slip. Like them he refuses to bend on his idea: his obsessive crusade against crime, atoning for sins that aren't his, for things that cannot be undone. And so the waltz goes on.
You, even if you don't know it, have your own unbending idea – one that BioShock is keen, in its immortal moments, to dissect: play, like the show, must go on. The masterstroke of your confrontation with Cohen is that it indulges the game's dilemma of agency without Ryan's later pageantry, without letting its mask slip, and with one crucial improvement: you can choose not to fight him.
While the Joker lies dead on the cathedral steps, Cohen may be left in his gilded cage at the bottom of the Atlantic, alone with his ideas.
---
If you enjoyed this, then check out the Cut Scenes archives.
Dan Marshall: It was 'astonishingly easy' to add accessibility options
Dan Marshall, of Size Five Games, says adding accessibility features to Lair of the Clockwork God was "all pretty straightforward, easy work."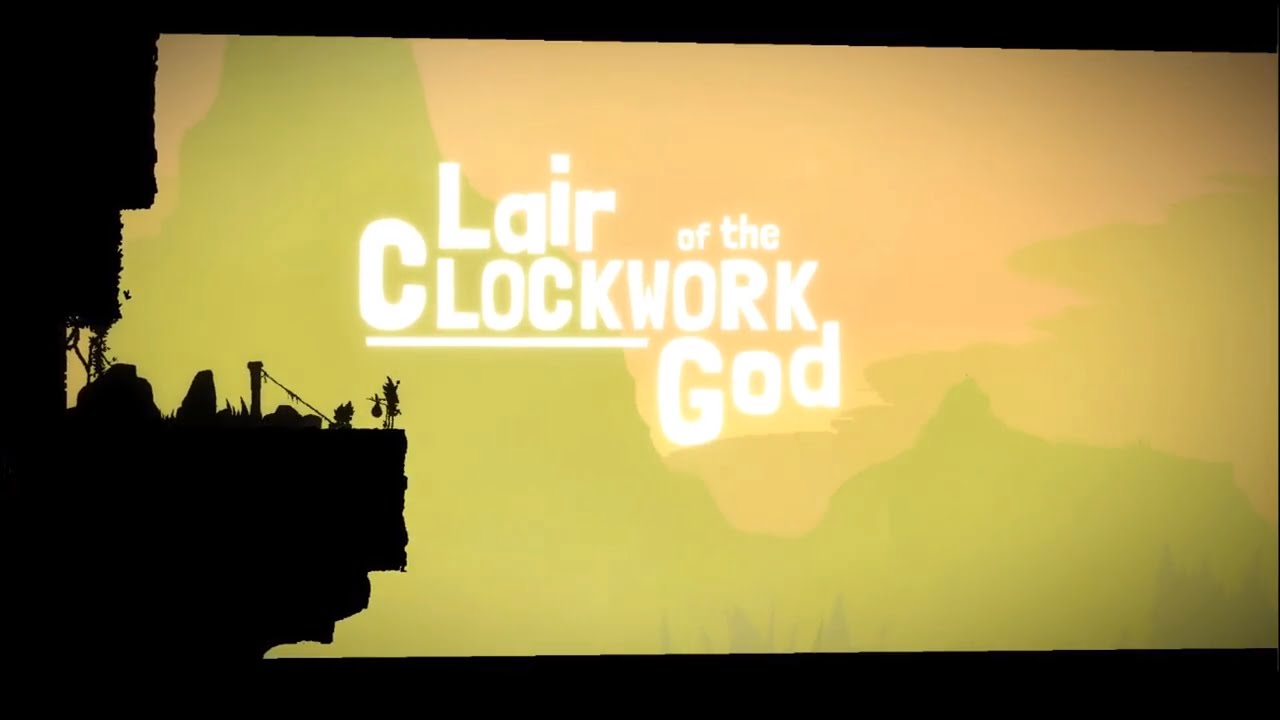 Dan Marshall, of Size Five Games, says adding accessibility features to Lair of the Clockwork God was "all pretty straightforward, easy work."
The year is 2020. Technology has never been more advanced. And yet, we live in a bizarre, regressive world where anti-vaxxers are on the rise, the UK is leaving the EU of its own volition, and the President of the United States yells at an autistic teenage girl for daring to suggest that his generation perhaps doesn't ruin the planet for future generations.
In the world of video games, one obvious symptom of this intellectual vacuum is the anti-accessibility crowd. From gatekeepers who want to preserve the rarity of their "achievements" to those who are simply incapable of human empathy, there are still people who don't believe video games need accessibility features. In 2020.
They're dead wrong, by the way. (And if you disagree with that, maybe don't read our website? We're big advocates of accessibility in games and we're frankly better off without you, thanks.)
Dan Marshall, of Size Five Games, spent a few hours this weekend adding accessibility features to upcoming game Lair of the Clockwork God. A sequel to Time Gentlemen, Please! and Ben There, Dan That!, Clockwork God is a mash-up of indie platformer and the series' classic point-and-click adventure mechanics. It's obviously a text-heavy game.
We spoke to Marshall via email, to ask about the process of making Lair of the Clockwork God more accessible, and why it's important.
"I have been useless at all this stuff," Dan concedes, "but the reality is it's always good to make sure the game can be enjoyed by as many people as possible. Getting a game out the door is hard, and I do think it's understandable when this kind of stuff hasn't been implemented, because that pre-launch to-do list is so incredibly long, and especially for smaller indies who have such astonishingly low resources."
"So for me, this kind of thing has always sadly fallen off the back burner," he continues. "This time around I'm in the fortunate position to have the cash and resources behind me to spend a little time thinking about and implementing a few minor changes, that make the game so much more enjoyable for so many people."
Added some accessibility options for #ClockworkGod's dialogue system. If there's anything else you think I should add, please let me know 🙂#indiedev #gameDev #screenshotSaturday pic.twitter.com/12Be4wwS7l

— Dan Marshall (@danthat) January 25, 2020
"Oddly enough, Lair of the Clockwork God's themes kind of deal with all this," Marshall explains. "By the nature of the beast, that it's written by and starring two straight white guys… I mean, there's obviously nothing we can do about that, so we've tried to be mindful every step of the way making sure the game is as inclusive elsewhere as possible."
"The script itself deals head-on with topics like the 'wokeness' of the indie scene, or getting older and feeling out of place with new trends and other peoples' needs… y'know in the game Ben's this kind of relic from the LucasArts era, and Dan's desperately keen to be part of this new vibrant indie movement he's heard so much about, so taking the steps to make the whole game as accessible as possible kind of goes hand-in-hand with all that."
So how easy has the process been, to add accessibility options to Lair of the Clockwork God?
"Astonishingly easy, to be honest. I spent about 4-5 hours total adding 9 core changes (including some that people had recommended over Twitter), and honestly," Marshall says, "it was all pretty straightforward, easy work, which is exactly what I need right now. In the scheme of things, that's probably less time than I spent choosing the colour of the options menu, so it's worth doing."
"And yeah, some of it was just unbelievably quick. Two lines of code and a new toggle added to the menu and it's in. So why not do it? There's obviously some bigger stuff that's likely to let's say, break everything, and I'll do my best to get them in before launch. Lesson learned for the next project is: it's just sensible to keep this stuff in mind the whole way through!"
For little more than an afternoon's work, Lair of the Clockwork God is now a far more accessible experience.
Clockwork God now includes options for a dyslexic-friendly font, and adjusting the size, colour, speed, and labelling of text to make it easier for everyone to follow. This might not seem like a big deal if you don't need it, but it will literally be the difference between someone being able to play the game or bouncing off it.
The year is 2020. Fictional Ben may be insistent that Lair of the Clockwork God's mechanics stay rooted in 1991, but just like his in-game counterpart, real-life Dan is making sure it's a modern video game, too.
---
Follow Thumbsticks on Twitter for the best video game stories. Got something you'd like to share with us? Our DMs are open.