Desert Island Games: Shaun Roopra (The Dangerous Kitchen)
Desert Island Games: the hypothetical stranding of a beloved video game or industry personality, and which games they would choose to keep themselves sane. This time, it's Shaun Roopra of The Dangerous Kitchen.
Desert Island Games: the hypothetical stranding of a beloved video game or industry personality, and which games they would choose to keep themselves sane. This time, it's Shaun Roopra of The Dangerous Kitchen.
Shaun Roopra is one third of London-based indie developer The Dangerous Kitchen. Their first game, De Mambo, was an early doors release for the Nintendo Switch – you know, in the days before the eShop got too crowded to find anything – as Nintendo was keen to focus on local multiplayer games to push the sociable aspect of its portable console. De Mambo is also available on Steam as part of the Early Access programme.
You may be familiar with The Dangerous Kitchen for their rather curious claim to fame, which we have reported on in the past: their "office" is the Costa Coffee in the lobby of a Premier Inn. Just off the M4, near Slough. Office space in our nation's capital is expensive, to be fair, so whatever works guys!
Wario Land 4 – Game Boy Advance
A life without Wario is no life I want to live; a Wario game needs to be on this list, because without Wario in my life, there is no meaning. All one has to do is to look at the current state of the world and realise why all of this is happening – there hasn't been a Wario game since 2013! I think that explains everything.
But in all seriousness, Wario Land 4 is my pick because its my favourite Wario game and coincidentally, my first. I was madly addicted to this game, drawing Wario imagery when not playing and even playing a faux-multiplayer version of the game with friends – we'd play our own copies and try to finish a level the quickest in school breaks.
The variety of ideas the game throws at you is ridiculous with one level possibly inside a giant fridge and then another with a Lakitu wannabe pig, doodling images in a sketchbook that come to life and attack you.
Wario Land 4 just has this innate ability to be both incredibly stupid and yet brilliantly constructed, not too dissimilar to a Frank Zappa song.
Xenoblade Chronicles 2 – Nintendo Switch
The music. Oh god, the music. Xenoblade Chronicles 2's soundtrack is exceptional. Yasanori Mitsuda, ACE, Kenji Hiramatsu and Manami Kiyota really outdid themselves with such a well produced, arranged and just downright beautiful sounding masterpiece – just [search] YouTube 'Mor Ardain' and you'll see what I'm talking about.
Although I would choose this game based on the soundtrack alone, it's the gameplay that made me put it on this list. I've played the original Xenoblade Chronicles for 140 hours, X for about 70, Xenoblade Chronicles on 3DS for about 50 and 2 for 140(I'm still playing!). The battle system does not ever feel boring to me and with 2, they pushed and pulled it, moulded it perfectly into what I'd consider the best battle system of any game I've played. Every aspect of the battle system has an advantage and disadvantage, so I'm constantly engaged and with so many characters to experiment with, so much side content and a minimum play-through of about 90 hours, it's a no brainer putting it on this list. Did I also mention how good the soundtrack is?
Super Metroid – SNES
I've seen the phrase, "There's no such thing as a perfect video-game" being thrown about, to which I always want to question if the person saying this has played Super Metroid.
The pacing of this game is just relentless. The atmosphere is so thick it's almost gelatinous. The controls are tight. The story is nuanced with no fat. The soundtrack is poetic in its subtle darkness. I could go on and on. This game is mesmerisingly good and incredibly replayable.
Earthbound – SNES
On an empty desert island, in the cool shade of solitude where no one else is around, the warm spirit of Earthbound will be paramount to my existence.
I love this game so much. Everything about it just resonates with me but instead of wasting more of your time with my mediocre attempts at explaining what makes Earthbound special, I'll leave you with the capable hands of its creator, the one and only Shigesato Itoi:
"What is the video game, Earthbound?
Even today, it's so hard to answer that question.

It was like a group of children taking dolls from a toy chest.
Old dishes no longer used in the kitchen.
Nuts and bolts found inside a toolbox.
Little flowers and leaves from the backyard.
And they were all laid down on the carpet with everybody singing made-up songs.
Ready to talk all day about that world they just made.
That, I think was how Earthbound was made."
Super Mario Bros. – NES
This game is what I'd consider the holy grail of gaming, a bible of good game design and a work of art that can stand toe to toe with any renaissance painting or classical piece of music. Super Mario Bros. is Miyamoto's legacy. His true masterpiece.
It's a game that excels at being incredibly simple to play and yet deeply complex to master. The controls and level design are impeccable and it has a perfect soundtrack by a man who I don't even need to name. You know his name.
This game is exceptional but I'll let you into a little secret: Although I've played this game a lot (blame Nintendo for releasing it fifty times and watching me buy it every single time), I've never actually finished it! It's like my life goal to finish it and being stranded on a desert island would be the perfect opportunity to finally achieve it.
Bonus entertainment/luxury item – iPad Pro
The iPad Pro (with Smart Keyboard and Apple Pencil) is a must for me, as I need to draw (more than playing the above list of games!), to write and to make horrible, horrible sounds – those of you who've played De Mambo can attest to the horror – so the Pro is a perfect all in one device.
---
More Desert Island Games on Thumbsticks
Dan Marshall: It was 'astonishingly easy' to add accessibility options
Dan Marshall, of Size Five Games, says adding accessibility features to Lair of the Clockwork God was "all pretty straightforward, easy work."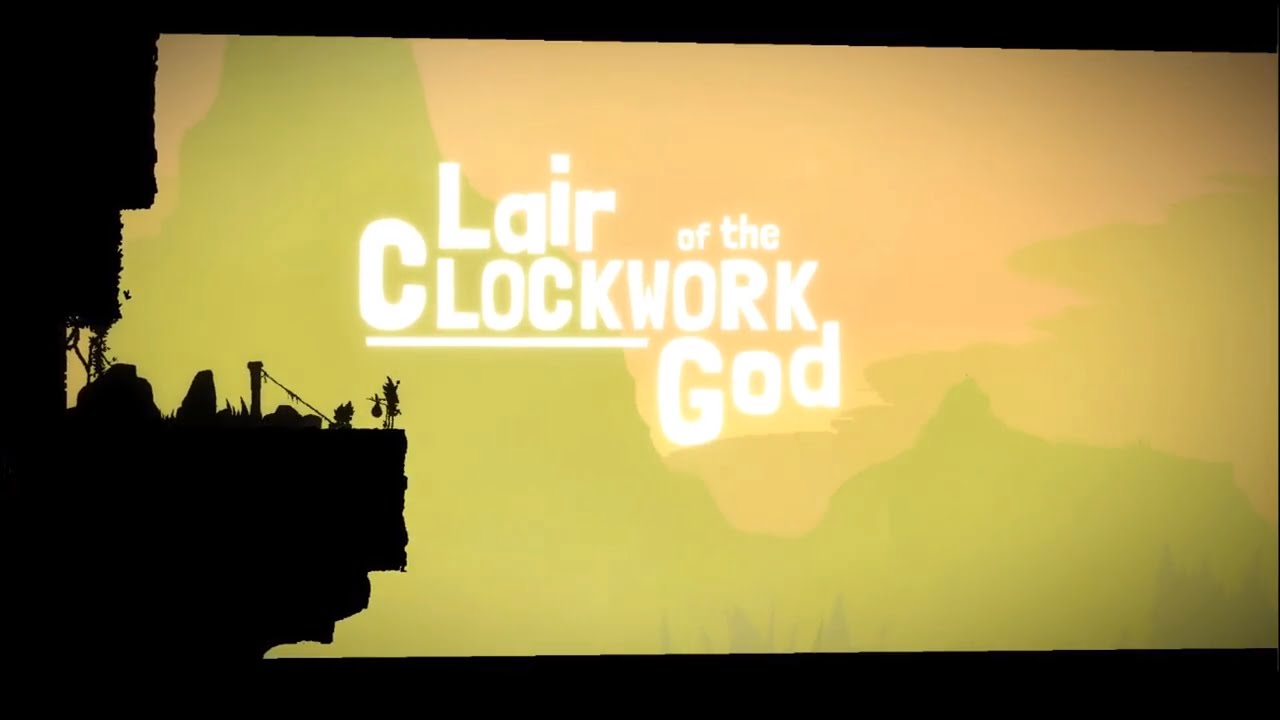 Dan Marshall, of Size Five Games, says adding accessibility features to Lair of the Clockwork God was "all pretty straightforward, easy work."
The year is 2020. Technology has never been more advanced. And yet, we live in a bizarre, regressive world where anti-vaxxers are on the rise, the UK is leaving the EU of its own volition, and the President of the United States yells at an autistic teenage girl for daring to suggest that his generation perhaps doesn't ruin the planet for future generations.
In the world of video games, one obvious symptom of this intellectual vacuum is the anti-accessibility crowd. From gatekeepers who want to preserve the rarity of their "achievements" to those who are simply incapable of human empathy, there are still people who don't believe video games need accessibility features. In 2020.
They're dead wrong, by the way. (And if you disagree with that, maybe don't read our website? We're big advocates of accessibility in games and we're frankly better off without you, thanks.)
Dan Marshall, of Size Five Games, spent a few hours this weekend adding accessibility features to upcoming game Lair of the Clockwork God. A sequel to Time Gentlemen, Please! and Ben There, Dan That!, Clockwork God is a mash-up of indie platformer and the series' classic point-and-click adventure mechanics. It's obviously a text-heavy game.
We spoke to Marshall via email, to ask about the process of making Lair of the Clockwork God more accessible, and why it's important.
"I have been useless at all this stuff," Dan concedes, "but the reality is it's always good to make sure the game can be enjoyed by as many people as possible. Getting a game out the door is hard, and I do think it's understandable when this kind of stuff hasn't been implemented, because that pre-launch to-do list is so incredibly long, and especially for smaller indies who have such astonishingly low resources."
"So for me, this kind of thing has always sadly fallen off the back burner," he continues. "This time around I'm in the fortunate position to have the cash and resources behind me to spend a little time thinking about and implementing a few minor changes, that make the game so much more enjoyable for so many people."
Added some accessibility options for #ClockworkGod's dialogue system. If there's anything else you think I should add, please let me know 🙂#indiedev #gameDev #screenshotSaturday pic.twitter.com/12Be4wwS7l

— Dan Marshall (@danthat) January 25, 2020
"Oddly enough, Lair of the Clockwork God's themes kind of deal with all this," Marshall explains. "By the nature of the beast, that it's written by and starring two straight white guys… I mean, there's obviously nothing we can do about that, so we've tried to be mindful every step of the way making sure the game is as inclusive elsewhere as possible."
"The script itself deals head-on with topics like the 'wokeness' of the indie scene, or getting older and feeling out of place with new trends and other peoples' needs… y'know in the game Ben's this kind of relic from the LucasArts era, and Dan's desperately keen to be part of this new vibrant indie movement he's heard so much about, so taking the steps to make the whole game as accessible as possible kind of goes hand-in-hand with all that."
So how easy has the process been, to add accessibility options to Lair of the Clockwork God?
"Astonishingly easy, to be honest. I spent about 4-5 hours total adding 9 core changes (including some that people had recommended over Twitter), and honestly," Marshall says, "it was all pretty straightforward, easy work, which is exactly what I need right now. In the scheme of things, that's probably less time than I spent choosing the colour of the options menu, so it's worth doing."
"And yeah, some of it was just unbelievably quick. Two lines of code and a new toggle added to the menu and it's in. So why not do it? There's obviously some bigger stuff that's likely to let's say, break everything, and I'll do my best to get them in before launch. Lesson learned for the next project is: it's just sensible to keep this stuff in mind the whole way through!"
For little more than an afternoon's work, Lair of the Clockwork God is now a far more accessible experience.
Clockwork God now includes options for a dyslexic-friendly font, and adjusting the size, colour, speed, and labelling of text to make it easier for everyone to follow. This might not seem like a big deal if you don't need it, but it will literally be the difference between someone being able to play the game or bouncing off it.
The year is 2020. Fictional Ben may be insistent that Lair of the Clockwork God's mechanics stay rooted in 1991, but just like his in-game counterpart, real-life Dan is making sure it's a modern video game, too.
---
Follow Thumbsticks on Twitter for the best video game stories. Got something you'd like to share with us? Our DMs are open.