The E3 2018 press conferences ranked, from worst to best
We don't subscribe to the theory that any one publisher or game "wins" E3. That being said, we're not against ranking things in order of preference, because we know you nerds love a good list.
We don't subscribe to the theory that any one publisher or game "wins" E3.
Any day you don't have a wicked case of the flu by the end of it is a win to be honest, and we all just try and do a little less badly each time.
That being said, we're not against ranking things in order of preference (because we know you nerds love a good list) so here it is: The big Thumbsticks list of E3 2018 press conferences ranked, from worst to best.
8. PC Gaming Show
The PC Gaming Show took a similar approach to Microsoft – pack 'em to the rafters and keep the trailers coming – but also featured a bit too much of EA's stilted developer chats. The presenters were fantastic, however, and did their very best with asking "When does it come out?" and "What's your website URL?" nine thousand times.
Highlight: The Two Point Hospital chat was very amusing, from the broken microphone to the overall weirdness of it. Also, the presenters did a great job with a tough sell. And Sable and Ooblets are both wonderful.
Lowlight: It went on for nearly two hours and so much of it was almost instantly forgettable.
7. EA
The EA conference was sort of an exercise in how not to do press conferences. There was the acknowledgement that people didn't like loot boxes, but no ownership of the issue itself, for one thing. The delivery was stilted, the talking segments went on fair too long, and their decision to use looping footage during the discussion segments made it seem like they'd not timed how long each segment was going to be. The EA Play event itself was also a very weird collection of shipping containers with not enough demo stations, and a massive stage that nobody was watching.
Highlight: Anthem kinda looked better than we thought it had any right to be. It's still basically Mess Effect-stiny, but you know, we're more hopeful than we were before the conference.
Lowlight: Pretty much everything else, though in a particularly stinky show, the Command & Conquer mobile game stank the worst.
6. Square Enix
Square Enix's conference was odd in that, while everything they showed was pretty solid, there wasn't really anything we hadn't seen before. We'd already seen Just Cause 4 and Nier: Automata at the Microsoft conference, and they already announced Kingdom Hearts III's release date; it all just felt like there was no wind left for the sails by this point.
Highlight: Even though it wasn't a surprise, there's a lot of love for Kingdom Hearts III, and with good reason.
Lowlight: No news on the Final Fantasy VII Remake. We thought that meant we'd see it at Sony's showcase instead, but we didn't.
5. Ubisoft
Ubisoft's conference was sort of the opposite of the EA one, from a publisher who is evidently very skilled at putting together these set pieces. The Just Dance 2019 intro number was the most bizarre trip, but we loved it all the same, even though we have precisely zero interest in the game. Someone must be buying it, but we don't know who that is, is what we're saying here. From there they had a strong showing with Beyond Good and Evil 2, but after that, it was pretty forgettable stuff. There was also an Assassin's Creed game that looks like it was based on Zack Snyder's 300, so the less said about that, the better.
Highlight: Beyond Good and Evil 2 looks remarkable, though there's little evidence it's really a game and not just a CGI Luc Besson film, yet..
Lowlight: Skull & Bones looks really tedious. It's taken one of the most enjoyable bits of one of the most fun Assassin's Creed games – the ship sections from Black Flag – and turned it into a dour, gritty pirate simulator.
4. Nintendo
Nintendo did the thing they needed to do: they showed us the new Smash, and all was looking rosy in the garden. They were quite high up this list. And then they continued to talk about Smash. The introduced each character, one at a time. Then they continued to talk about Smash. Several lifetimes flashed by in the blink of an eye and still they talked about Smash. At one point, it sounded like they were literally just reading the contents of a Prima strategy guide for the game to us. Several hours later, the Direct finished.
Highlight: They showed details of the new Smash.
Lowlight: They showed far too much detail of the new Smash. Also, no sign of the new Yoshi game.
3. PlayStation
The PlayStation conference this year was remarkable for a number of reasons. First of all, we knew that Sony were keen to focus on four key games – The Last of Us 2, Ghosts of Tsushima, Death Stranding, and Spider-Man – and they stuck to their word. Other than a few short clips and reveals of some other games, and adorable musical interludes from Media Molecule's Dreams, it really was all about those four major titles.
Highlight: Ghosts of Tsushima was very smart, but we're going to have to go for the super-gay kiss from The Last of Us 2.
Lowlight: The transition from the lovely to the hyper-violent in The Last of Us 2 was distressing, but Death Stranding is still inscrutable and inexplicable, and Sony acting like that segment shed any more light on whatever nonsense is going on there is just embarrassingly misguided. Also, that Justin Roiland thing looks dreadful. Also, the stage setting itself, moving from one tent to another was baffling.
2. Xbox
Microsoft showed off 50 games and 18 exclusives in a conference that just kept things coming. There were minimal developer chats, even Phil Spencer kept his shtick to a minimum, and they rattled through the trailers like a press conference minigun. It was exhausting to try and cover but for a wheat to chaff ratio, it was pretty much perfect.
Highlight: Forza Horizon 4 looks pretty special. Also, Kait taking the lead in Gears 5.
Lowlight: The Funko Pop Gears of War thing was just the worst. The absolute worst. Get in the bin.
1. Bethesda
Bethesda usually put on a good show. Sometimes it's hard to believe that Todd Howard is actually anything to do with games at all, and isn't just a motivational speaker they hire to get people fired up at their events. For a conference that had precious little in the way of surprises – we already knew about Fallout 76, the big ticket item, and the fact they've somehow managed to make people excited for Rage 2 which is a minor miracle – Bethesda still managed to wow us at (almost) every turn; following the Elder Scrolls mobile game with a never before seen teaser for The Elder Scrolls VI was a smart move to avoid angry fans.
Highlight: Fallout 76 was one of the most comprehensive and impressive reveals we've seen in some time, even if we're not entirely happy with the multiplayer aspect of it ourselves. Bethesda are getting good at sitting on their hands until stuff is close enough to release to be really impressive at showtime. Also, we're totally here for all of that good Prey stuff; the developer shtick was also great and not at all embarrassing, for once, so kudos for that. Also the joke about Skyrim for Amazon Alexa was funny, until you realise they actually did it. Then, it's genius.
Lowlight: While the Elder Scrolls card game and Bethesda's insistence that people try and be interested in Quake Legends sent us to sleep, spare a thought for poor old Andrew WK. He's such a lovely man and he was rocking his hardest, but that audience was just too aloof to care. It's fine to just be there for the games, guys, but there's no need to be rude about it.
Special participation award for most improved conference: Devolver Digital
Devolver promised us a dumpster fire, and they delivered. But also, it was very funny and they did show off some games, which is more than we can say for last year.
Highlight: Nina destroying the condescending "actually it's pronounced 'jif'" nerd made our hearts soar. Also, lootboxcoin. Also, Nina in general. She's wonderful.
Lowlight: We felt pretty stupid when they actually announced Metal Wolf Chaos XD. We were absolutely convinced they were yanking everyone's chain with the pre-conference teases for that one, and they made us look foolish.
---
More E3 2018 from Thumbsticks
Dan Marshall: It was 'astonishingly easy' to add accessibility options
Dan Marshall, of Size Five Games, says adding accessibility features to Lair of the Clockwork God was "all pretty straightforward, easy work."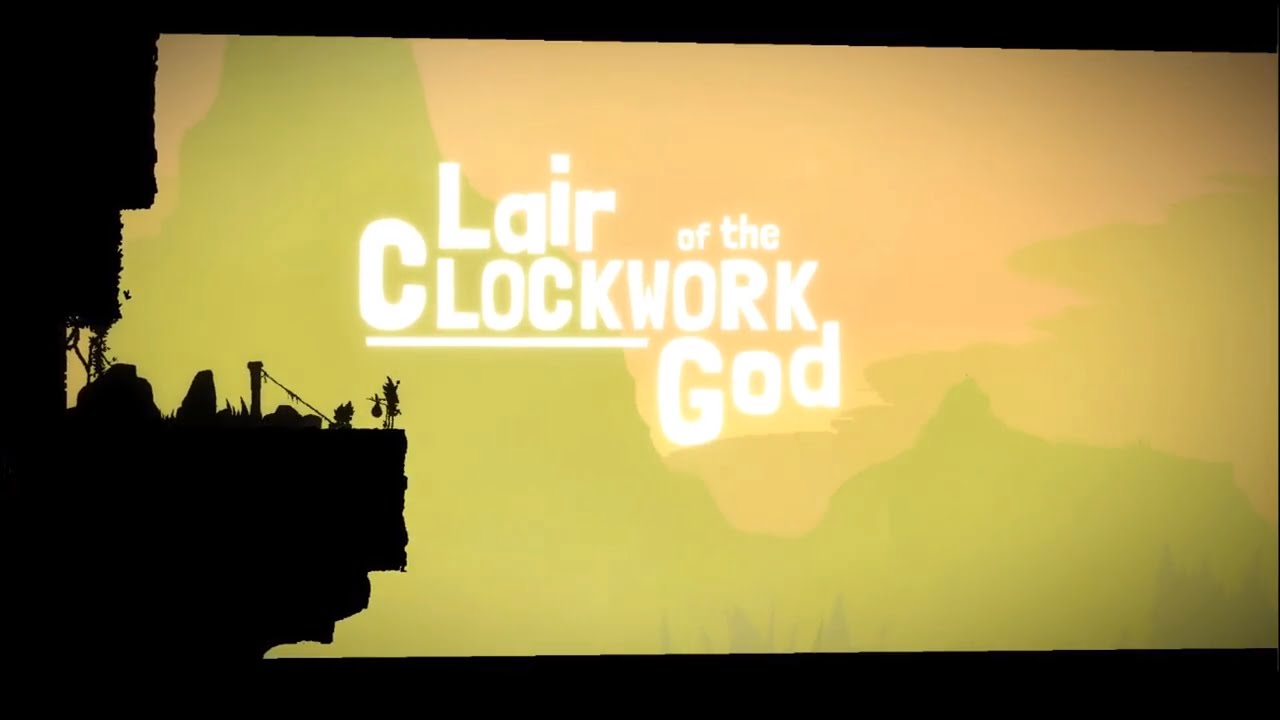 Dan Marshall, of Size Five Games, says adding accessibility features to Lair of the Clockwork God was "all pretty straightforward, easy work."
The year is 2020. Technology has never been more advanced. And yet, we live in a bizarre, regressive world where anti-vaxxers are on the rise, the UK is leaving the EU of its own volition, and the President of the United States yells at an autistic teenage girl for daring to suggest that his generation perhaps doesn't ruin the planet for future generations.
In the world of video games, one obvious symptom of this intellectual vacuum is the anti-accessibility crowd. From gatekeepers who want to preserve the rarity of their "achievements" to those who are simply incapable of human empathy, there are still people who don't believe video games need accessibility features. In 2020.
They're dead wrong, by the way. (And if you disagree with that, maybe don't read our website? We're big advocates of accessibility in games and we're frankly better off without you, thanks.)
Dan Marshall, of Size Five Games, spent a few hours this weekend adding accessibility features to upcoming game Lair of the Clockwork God. A sequel to Time Gentlemen, Please! and Ben There, Dan That!, Clockwork God is a mash-up of indie platformer and the series' classic point-and-click adventure mechanics. It's obviously a text-heavy game.
We spoke to Marshall via email, to ask about the process of making Lair of the Clockwork God more accessible, and why it's important.
"I have been useless at all this stuff," Dan concedes, "but the reality is it's always good to make sure the game can be enjoyed by as many people as possible. Getting a game out the door is hard, and I do think it's understandable when this kind of stuff hasn't been implemented, because that pre-launch to-do list is so incredibly long, and especially for smaller indies who have such astonishingly low resources."
"So for me, this kind of thing has always sadly fallen off the back burner," he continues. "This time around I'm in the fortunate position to have the cash and resources behind me to spend a little time thinking about and implementing a few minor changes, that make the game so much more enjoyable for so many people."
Added some accessibility options for #ClockworkGod's dialogue system. If there's anything else you think I should add, please let me know 🙂#indiedev #gameDev #screenshotSaturday pic.twitter.com/12Be4wwS7l

— Dan Marshall (@danthat) January 25, 2020
"Oddly enough, Lair of the Clockwork God's themes kind of deal with all this," Marshall explains. "By the nature of the beast, that it's written by and starring two straight white guys… I mean, there's obviously nothing we can do about that, so we've tried to be mindful every step of the way making sure the game is as inclusive elsewhere as possible."
"The script itself deals head-on with topics like the 'wokeness' of the indie scene, or getting older and feeling out of place with new trends and other peoples' needs… y'know in the game Ben's this kind of relic from the LucasArts era, and Dan's desperately keen to be part of this new vibrant indie movement he's heard so much about, so taking the steps to make the whole game as accessible as possible kind of goes hand-in-hand with all that."
So how easy has the process been, to add accessibility options to Lair of the Clockwork God?
"Astonishingly easy, to be honest. I spent about 4-5 hours total adding 9 core changes (including some that people had recommended over Twitter), and honestly," Marshall says, "it was all pretty straightforward, easy work, which is exactly what I need right now. In the scheme of things, that's probably less time than I spent choosing the colour of the options menu, so it's worth doing."
"And yeah, some of it was just unbelievably quick. Two lines of code and a new toggle added to the menu and it's in. So why not do it? There's obviously some bigger stuff that's likely to let's say, break everything, and I'll do my best to get them in before launch. Lesson learned for the next project is: it's just sensible to keep this stuff in mind the whole way through!"
For little more than an afternoon's work, Lair of the Clockwork God is now a far more accessible experience.
Clockwork God now includes options for a dyslexic-friendly font, and adjusting the size, colour, speed, and labelling of text to make it easier for everyone to follow. This might not seem like a big deal if you don't need it, but it will literally be the difference between someone being able to play the game or bouncing off it.
The year is 2020. Fictional Ben may be insistent that Lair of the Clockwork God's mechanics stay rooted in 1991, but just like his in-game counterpart, real-life Dan is making sure it's a modern video game, too.
---
Follow Thumbsticks on Twitter for the best video game stories. Got something you'd like to share with us? Our DMs are open.