The Elder Scrolls games ranked, from worst to best
Here's the complete list – as it currently stands – of The Elder Scrolls games ranked, from worst to best.
Did you know there are actually 7 Elder Scrolls series games, even though Skyrim is only number 5 in the linear series? Technically you could argue that there are 8 (including The Elder Scrolls Online: Tamriel Unlimited) but if you do then you are a terrible, terrible person and we don't want to hear anything further from you.
7. The Elder Scrolls: Battlespire
It's actually really hard to decide which is the worse game out of Battlespire and Redguard; they are both frankly terrible. Battlespire however gets the nod as the absolute runt of the litter because it added very little to the progression of the series as a whole, where Redguard at least introduced the third-person perspective that is now a series staple. That's not to say Battlespire didn't introduce anything at all, though: it was the first game in The Elder Scrolls series to include a multiplayer mode… and that's yet another reason why it needs to be redacted from the annals of history with extreme prejudice.
Imagine the scope and ambition of Daggerfall, then set it all in one dungeon, with no discernible story, factions, quests, and absolutely nothing at all to enjoy about the entire experience. Then make it even buggier than Daggerfall – if that is in fact physically possible – and you've got the basic premise of Battlespire. Then take what you're imagining, and make it worse by a factor of one hundred billion, and that's how Battlespire turned out. Just dreadful.
6. The Elder Scrolls Adventures: Redguard
Don't take the fact we've got Redguard placed one ahead of Battlespire in our list as any kind of endorsement that it's a good game, because it simply isn't; it's just that it's ever-so-marginally less shit than Battlespire. It also did slightly more to advance the series with the introduction of the third-person mode that some people (deviants, mostly) play in full-time, but most of us just use to check out how cool our latest armour/clothing combo looks.
If proof positive were ever needed that nobody is infallible, then the fact that the mighty Todd Howard directed The Elder Scrolls Adventures: Redguard will confirm it for you. The game may have had a passable story and a very nicely put-together boxed release, but it also holds the ignominious record of being the only Elder Scrolls game in which you cannot customise your character. At all. And as Bethesda were just finding their way with third person mode, it didn't play fantastically well either.
5. The Elder Scrolls: Arena
The Elder Scrolls: Arena isn't a bad game by any stretch of the imagination. Unfortunately, after the two complete misfires that were Battlespire and Redguard we have to start putting the good Elder Scrolls game in some kind of an order, and that's where this list becomes an awful lot more difficult. If The Elder Scrolls games are like a box of chocolates, then Battlespire and Redguard are hideous dessicated coconut monstrosities that people either avoid or spit out, and everything else is delicious caramel or sweet fruit centres; how to you choose your favourite out of all the good ones?
Unfortunately someone has to come last – writing off Battlespire and Redguard, of course – and in this instance it's the first game in the series, The Elder Scrolls: Arena. It was a great first effort and was enjoyable in its own right, but unfortunately it really shows its age and it was beset with all manner of problems and delays. There. Band-aid ripped off. It's decided.
4. The Elder Scrolls IV: Oblivion
In theory, Oblivion had plenty going for it. Bethesda were bigger and wealthier than they had ever been, and buoyed by the success of The Elder Scrolls III: Morrowind, the development team ploughed straight into the series fourth instalment; the Fallout/Elder Scrolls tandem development cycle hadn't begun when work commenced on Oblivion in 2002, so they weren't even distracted by the other open-world mega-series.
The trouble with The Elder Scrolls IV: Oblivion is that it was just a little bit of a misfire, compared to what went before it and ultimately, what followed. In its own right it's a great game, but the relatively small map size and narrow setting – without an easy explainer like Morrowind's island – combined with the weird supernatural overtures of alternate dimensions and demonic incursions through portals… it just felt a bit like it was set on Sunnyvale's hellmouth, not in Tamriel. In all honesty, though, Oblivion is still a great game, but much like Arena, is simply suffering from the very fact we're ordering them.
3. The Elder Scrolls V: Skyrim
This is where it gets really difficult. If it wasn't a complete cop-out, I'd be tempted to have three games as the joint number one, but that's the coward's way out. The Elder Scrolls games are about making difficult choices, and picking between Skyrim, Oblivion and Daggerfall is one of the most difficult that has sprung from the series. So why is Skyrim third?
Unlike Bethesda's games that came before it – the Obsidian-written Fallout: New Vegas – and the one that followed – the astonishing Fallout 4 – the story of Skyrim is somewhat weak. All the individual components are stunning and every quest and area is incredibly written, but it's hard to get particularly invested in the overarching storyline of Empire vs… those other blokes, the Nordic Defence League types. See? Boring.
Also, dragons are amazing for about two thirds of the game, but what during the early stages are Shadow of the Colossus-esque encounters that you're lucky to survive, latterly turn into just another enemy to put down. If you find yourself chasing after a dragon, swearing at it and calling it a coward for not staying and fighting you, then they're too easy; and when one of the game's biggest assets gets boring? Then it's hard to keep at it.
2. The Elder Scrolls III: Morrowind
Why is Morrowind above Skyrim, then? I'll answer this one quite simply: apparently unsatisfied with Skyrim, a group of modders set out to bring their favourite Elder Scrolls adventure – Morrowind – to life in Skyrim's modern engine, in the marvellously ambitious (and incredibly stupidly-named) Skwind project.
So, the community really liked Skyrim, but felt it would be much better if it was actually Morrowind?
Enough said. Though it must also be said of Morrowind that it was really quite brown, like Quake II or Turok brown which is saying something, and the repairing mechanic was also an enormous drag. Other than that though, The Elder Scrolls III: Morrowind was damn-near perfect, and a game that I've logged thousands of hours in over dozens of restarts.
1. The Elder Scrolls II: Daggerfall
Why, you might be thinking, could Daggerfall possibly be at the pinnacle of this list? It was chronically late to the point of almost being vapourware, suffered from several game-breaking bugs – that could render you interred in a dungeon from which you can never escape or totally unable to complete the main quest-line – and by today's standards it has not aged especially well, if you can even figure out how to play it using DOSbox.
The Elder Scrolls II: Daggerfall is the finest game in The Elder Scrolls series because of its sheer scale of ambition. It's enormous. Seriously, stupendously big. 161,600 square kilometers, or 62,394 square miles, to be precise: roughly half the size of Great Britain. People are quick to heap praise on the likes of Just Cause 3 and Grand Theft Auto V for having big maps, but theirs are frankly pathetic compared to Daggerfall's… and that was in 1996. Sure, not every inch of Daggerfall's vast world is entirely interesting, but I can't even begin to quantify how many hours I've pumped into The Elder Scrolls II: Daggerfall, in spite of all of its flaws, and how I kept going back in countless replays and re-rolls, through every different character class and possible archetype you can think of.
I always took that ebony dagger, though. Every. Single. Time.
Dan Marshall: It was 'astonishingly easy' to add accessibility options
Dan Marshall, of Size Five Games, says adding accessibility features to Lair of the Clockwork God was "all pretty straightforward, easy work."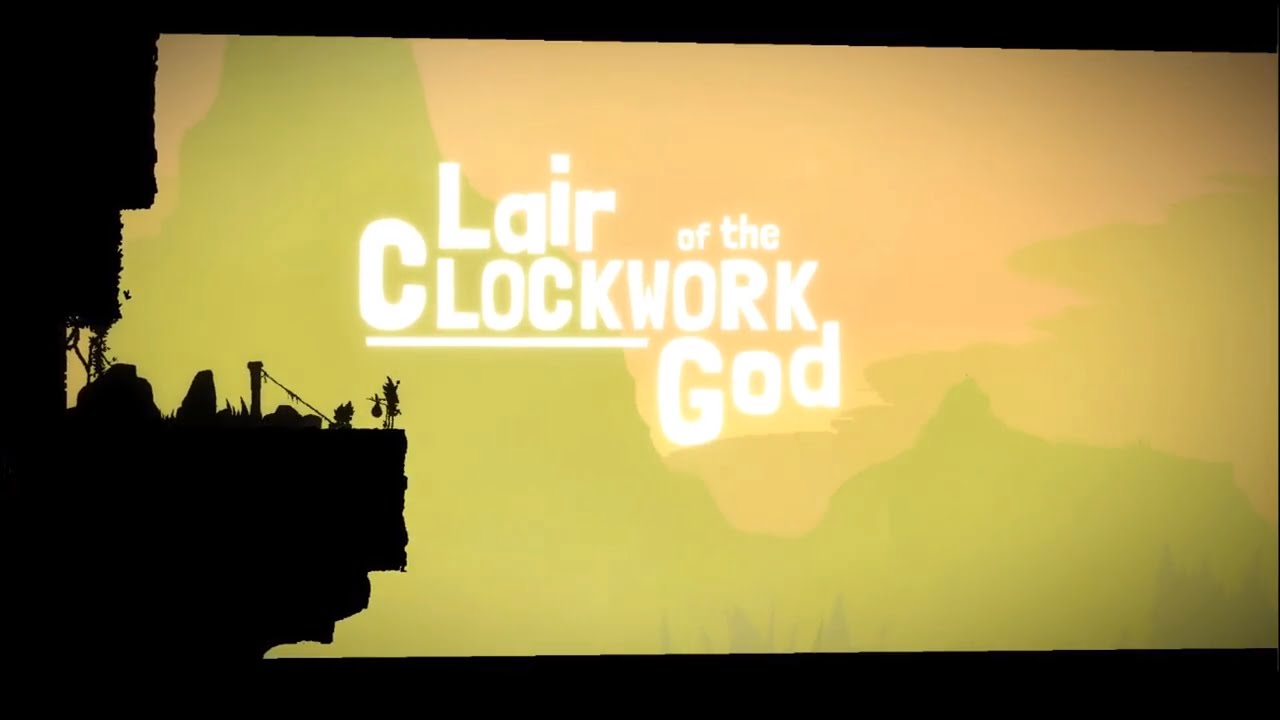 Dan Marshall, of Size Five Games, says adding accessibility features to Lair of the Clockwork God was "all pretty straightforward, easy work."
The year is 2020. Technology has never been more advanced. And yet, we live in a bizarre, regressive world where anti-vaxxers are on the rise, the UK is leaving the EU of its own volition, and the President of the United States yells at an autistic teenage girl for daring to suggest that his generation perhaps doesn't ruin the planet for future generations.
In the world of video games, one obvious symptom of this intellectual vacuum is the anti-accessibility crowd. From gatekeepers who want to preserve the rarity of their "achievements" to those who are simply incapable of human empathy, there are still people who don't believe video games need accessibility features. In 2020.
They're dead wrong, by the way. (And if you disagree with that, maybe don't read our website? We're big advocates of accessibility in games and we're frankly better off without you, thanks.)
Dan Marshall, of Size Five Games, spent a few hours this weekend adding accessibility features to upcoming game Lair of the Clockwork God. A sequel to Time Gentlemen, Please! and Ben There, Dan That!, Clockwork God is a mash-up of indie platformer and the series' classic point-and-click adventure mechanics. It's obviously a text-heavy game.
We spoke to Marshall via email, to ask about the process of making Lair of the Clockwork God more accessible, and why it's important.
"I have been useless at all this stuff," Dan concedes, "but the reality is it's always good to make sure the game can be enjoyed by as many people as possible. Getting a game out the door is hard, and I do think it's understandable when this kind of stuff hasn't been implemented, because that pre-launch to-do list is so incredibly long, and especially for smaller indies who have such astonishingly low resources."
"So for me, this kind of thing has always sadly fallen off the back burner," he continues. "This time around I'm in the fortunate position to have the cash and resources behind me to spend a little time thinking about and implementing a few minor changes, that make the game so much more enjoyable for so many people."
Added some accessibility options for #ClockworkGod's dialogue system. If there's anything else you think I should add, please let me know 🙂#indiedev #gameDev #screenshotSaturday pic.twitter.com/12Be4wwS7l

— Dan Marshall (@danthat) January 25, 2020
"Oddly enough, Lair of the Clockwork God's themes kind of deal with all this," Marshall explains. "By the nature of the beast, that it's written by and starring two straight white guys… I mean, there's obviously nothing we can do about that, so we've tried to be mindful every step of the way making sure the game is as inclusive elsewhere as possible."
"The script itself deals head-on with topics like the 'wokeness' of the indie scene, or getting older and feeling out of place with new trends and other peoples' needs… y'know in the game Ben's this kind of relic from the LucasArts era, and Dan's desperately keen to be part of this new vibrant indie movement he's heard so much about, so taking the steps to make the whole game as accessible as possible kind of goes hand-in-hand with all that."
So how easy has the process been, to add accessibility options to Lair of the Clockwork God?
"Astonishingly easy, to be honest. I spent about 4-5 hours total adding 9 core changes (including some that people had recommended over Twitter), and honestly," Marshall says, "it was all pretty straightforward, easy work, which is exactly what I need right now. In the scheme of things, that's probably less time than I spent choosing the colour of the options menu, so it's worth doing."
"And yeah, some of it was just unbelievably quick. Two lines of code and a new toggle added to the menu and it's in. So why not do it? There's obviously some bigger stuff that's likely to let's say, break everything, and I'll do my best to get them in before launch. Lesson learned for the next project is: it's just sensible to keep this stuff in mind the whole way through!"
For little more than an afternoon's work, Lair of the Clockwork God is now a far more accessible experience.
Clockwork God now includes options for a dyslexic-friendly font, and adjusting the size, colour, speed, and labelling of text to make it easier for everyone to follow. This might not seem like a big deal if you don't need it, but it will literally be the difference between someone being able to play the game or bouncing off it.
The year is 2020. Fictional Ben may be insistent that Lair of the Clockwork God's mechanics stay rooted in 1991, but just like his in-game counterpart, real-life Dan is making sure it's a modern video game, too.
---
Follow Thumbsticks on Twitter for the best video game stories. Got something you'd like to share with us? Our DMs are open.