As Super Mario 3D All-Stars comes to the Nintendo Switch, we take a look back at the long and varied history of Mario's adventures in three dimensions.
Super Mario 3D All-Stars might not be the celebration of Mario that many fans wanted, but there's no denying the quality of the games it includes. Each one has its fans – even Super Mario Sunshine – but how to do they rank among Mario's other 3D exploits?
Here is our official ranking, ordered from worst to best.
7. Super Mario Sunshine
Well, this is a rare pleasure, a ranked list of video games in which there are no absolute stinkers. That said, it's probably no surprise to see Super Mario Sunshine as the first entry.
Despite its flaws, Super Mario Sunshine only sits seventh place because of the high quality of the titles that surround it. Its problems are well documented: the camera can be a nightmare, some of the character design is dreadful, and the fiddly blue coin quests overstay their welcome.
But, there is so much to like. Delfino Isle is a wonderful, secret-filled playground. The swoonsome music and balmy holiday tone is a delight. And consider the flawed but fun FLUDD mechanics, which have subsequently influenced Splatoon, the Zelda series, and Super Mario Odyssey. Sunshine is the weakest 3D Mario game, sure, but it's still full to bursting with wild ideas and concepts. And, of course, it has that adorable rideable Yoshi.
6. Super Mario 3D Land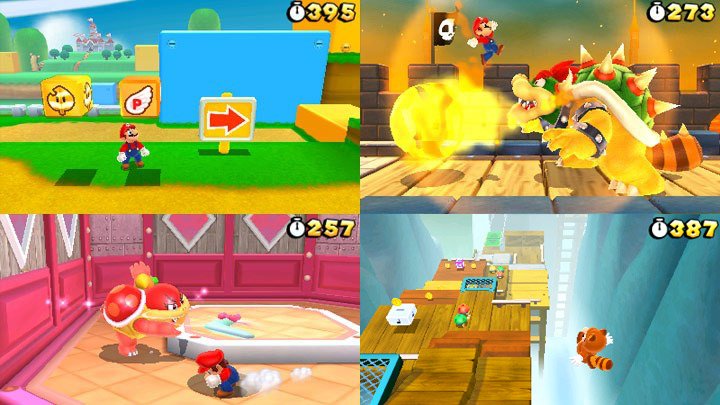 Although positioned in the lower reaches of this list, Super Mario 3D Land can comfortably lay claim to being the best handheld Mario game ever made. Alongside Mario Kart 7, it helped to revive the fortunes of the stumbling Nintendo 3DS, proving that the device was capable of delivering immersive and fresh experiences.
On release, 3D Land felt like a slimline version of Super Mario Galaxy, but in retrospect, it's clearly the first title in a third tier of 3D Mario games. In contrast to the open sandboxes of Super Mario 64 and Sunshine, or the kaleidoscopic planet-hopping of the Galaxy series, the game takes a more controlled approach. With a wealth of levels to explore, 3D Land's bite-sized structure is closest to NES classic, Super Mario Bros 3. The result is a joyous game that will forever remain the franchise's best portable-only excursion.
5. Super Mario Galaxy
One of Super Mario Galaxy's greatest achievements is how effortlessly it surpasses the constraints under which it was made. Developed for Nintendo's breakout – but relatively low-powered – Wii console, the game had to both improve on its flawed predecessor, and make complex three-dimensional gaming accessible to the console's casual audience. It also had to do it using an idiosyncratic control scheme that swapped sticks and buttons for motion and pointer controls.
Super Mario Galaxy achieves all of these things with ease. The game's emphasis on spherical worlds removes the reliance on a user-controlled camera and keeps the moustachioed plumber centre-stage at all times. The sandbox structure of Mario 64 and Sunshine is replaced by a series of increasingly elaborate and carefully constructed miniature worlds to negotiate.
An abundance of gameplay ideas display a refreshed enthusiasm from Nintendo, with Yoshiaki Koizumi's team flexing their creative muscles with new power-ups, enemies, and gravity-bending platforming. Combined with sumptuous visuals and a triumphant, orchestral score, Super Mario Galaxy is a giddying adventure from start to finish.
4. Super Mario 3D World
Ranking Super Mario 3D World above Super Mario Galaxy may prove contentious. The game may not be as recklessly inventive as Mario's Wii adventure, but it's a masterclass in the art of 3D platforming. 3D World is a more measured outing, but this allows for every block, platform, and jump to be crafted and polished with scientific precision.
The game is equally enjoyable played solo, or in multiplayer with up to three friends. And Cat Mario is an elegant – and often hilarious – way for younger or less skilled players to keep pace. Super Mario 3D World also looks glorious, with a chunky, toys-to-life consistency that is lacking from the next game in this list. And let's not forget that one of its finest achievements was spun off into its own game with Captain Toad: Treasure Tracker.
3. Super Mario Odyssey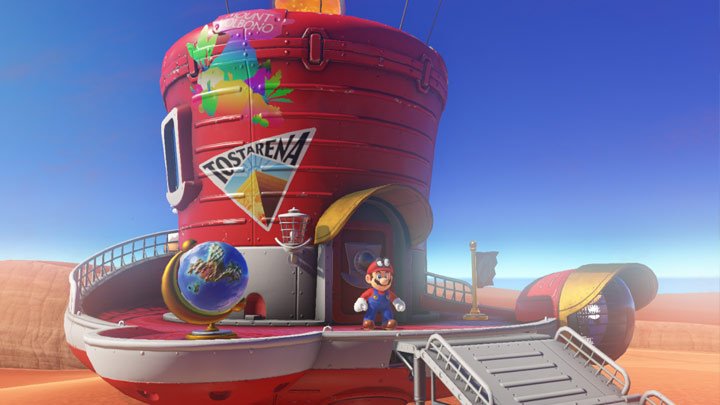 Super Mario Odyssey is the toughest game to place on this list. Its biggest achievement is not the level design, or its cap-based transformations – although they are all quite wonderful – but its generosity. Every corner of the game rewards experimentation, risk, exploration, and curiosity.
Super Mario Odyssey charts an expansive – and often overwhelming – new direction for the series, but it also doffs its cap to those that came before it. On at least two occasions, a nod to the past brought a tear to my eye. At all other times, I was grinning from ear to ear. It's an amazing experience and capped (pardon the pun) a wonderful launch year for the Nintendo Switch.
2. Super Mario 64
If you wanted to put Super Mario 64 at the top of this list, it would be hard to argue. Much of what we take for granted in the series – and 3D game design in general – debuted here. Like many titles of the era, it can feel rough around the edges, but its ideas still feel fresh, playful and creative.
Having refined the art of 2D platforming with Super Mario World and Yoshi's Island, fans might have expected Super Mario 64 to be a cautious first step into three dimensions. But no, its a supremely confident long jump, followed by a ground pound to mark the game's place in history.
1. Super Mario Galaxy 2
On paper Super Mario Galaxy 2 has the simplest brief of all the games on this list: make more of the same. Using the core concepts introduced Super Mario Galaxy, Koizumi and his team expand upon that template, and then some.
Gameplay mechanics and ideas that could easily be the foundation of entire games are introduced, chewed up, and disposed of with abandon. The variety is astonishing. Each course is a memorable test of mental mettle and physical athleticism. Each power-up is a delight. Each boss is a thrilling, fast-paced puzzle to solve.
In its post-credits end game, Galaxy 2 is also one of the most demanding, and fulfilling, platformers Nintendo has ever created. Super Mario Galaxy 2 is where Nintendo's talents in design, artistic expression, and desire to entertain all come together. It's Mario's best ever game, and its omission from Super Mario 3D All-Stars is baffling.
---
Disagree with my absolutely perfect ranking? Tell me how wrong I am on Facebook or Twitter.