Dan Marshall: It was 'astonishingly easy' to add accessibility options
Dan Marshall, of Size Five Games, says adding accessibility features to Lair of the Clockwork God was "all pretty straightforward, easy work."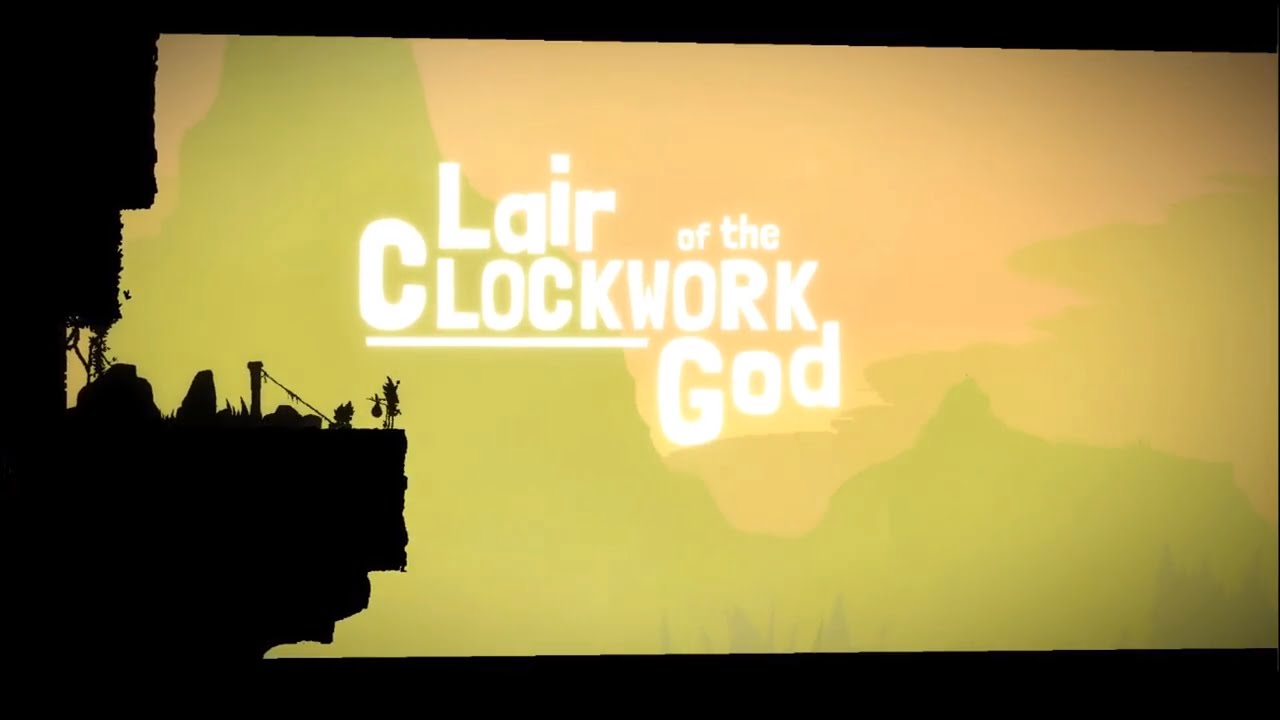 Dan Marshall, of Size Five Games, says adding accessibility features to Lair of the Clockwork God was "all pretty straightforward, easy work."
The year is 2020. Technology has never been more advanced. And yet, we live in a bizarre, regressive world where anti-vaxxers are on the rise, the UK is leaving the EU of its own volition, and the President of the United States yells at an autistic teenage girl for daring to suggest that his generation perhaps doesn't ruin the planet for future generations.
In the world of video games, one obvious symptom of this intellectual vacuum is the anti-accessibility crowd. From gatekeepers who want to preserve the rarity of their "achievements" to those who are simply incapable of human empathy, there are still people who don't believe video games need accessibility features. In 2020.
They're dead wrong, by the way. (And if you disagree with that, maybe don't read our website? We're big advocates of accessibility in games and we're frankly better off without you, thanks.)
Dan Marshall, of Size Five Games, spent a few hours this weekend adding accessibility features to upcoming game Lair of the Clockwork God. A sequel to Time Gentlemen, Please! and Ben There, Dan That!, Clockwork God is a mash-up of indie platformer and the series' classic point-and-click adventure mechanics. It's obviously a text-heavy game.
We spoke to Marshall via email, to ask about the process of making Lair of the Clockwork God more accessible, and why it's important.
"I have been useless at all this stuff," Dan concedes, "but the reality is it's always good to make sure the game can be enjoyed by as many people as possible. Getting a game out the door is hard, and I do think it's understandable when this kind of stuff hasn't been implemented, because that pre-launch to-do list is so incredibly long, and especially for smaller indies who have such astonishingly low resources."
"So for me, this kind of thing has always sadly fallen off the back burner," he continues. "This time around I'm in the fortunate position to have the cash and resources behind me to spend a little time thinking about and implementing a few minor changes, that make the game so much more enjoyable for so many people."
Added some accessibility options for #ClockworkGod's dialogue system. If there's anything else you think I should add, please let me know 🙂#indiedev #gameDev #screenshotSaturday pic.twitter.com/12Be4wwS7l

— Dan Marshall (@danthat) January 25, 2020
"Oddly enough, Lair of the Clockwork God's themes kind of deal with all this," Marshall explains. "By the nature of the beast, that it's written by and starring two straight white guys… I mean, there's obviously nothing we can do about that, so we've tried to be mindful every step of the way making sure the game is as inclusive elsewhere as possible."
"The script itself deals head-on with topics like the 'wokeness' of the indie scene, or getting older and feeling out of place with new trends and other peoples' needs… y'know in the game Ben's this kind of relic from the LucasArts era, and Dan's desperately keen to be part of this new vibrant indie movement he's heard so much about, so taking the steps to make the whole game as accessible as possible kind of goes hand-in-hand with all that."
So how easy has the process been, to add accessibility options to Lair of the Clockwork God?
"Astonishingly easy, to be honest. I spent about 4-5 hours total adding 9 core changes (including some that people had recommended over Twitter), and honestly," Marshall says, "it was all pretty straightforward, easy work, which is exactly what I need right now. In the scheme of things, that's probably less time than I spent choosing the colour of the options menu, so it's worth doing."
"And yeah, some of it was just unbelievably quick. Two lines of code and a new toggle added to the menu and it's in. So why not do it? There's obviously some bigger stuff that's likely to let's say, break everything, and I'll do my best to get them in before launch. Lesson learned for the next project is: it's just sensible to keep this stuff in mind the whole way through!"
For little more than an afternoon's work, Lair of the Clockwork God is now a far more accessible experience.
Clockwork God now includes options for a dyslexic-friendly font, and adjusting the size, colour, speed, and labelling of text to make it easier for everyone to follow. This might not seem like a big deal if you don't need it, but it will literally be the difference between someone being able to play the game or bouncing off it.
The year is 2020. Fictional Ben may be insistent that Lair of the Clockwork God's mechanics stay rooted in 1991, but just like his in-game counterpart, real-life Dan is making sure it's a modern video game, too.
---
Follow Thumbsticks on Twitter for the best video game stories. Got something you'd like to share with us? Our DMs are open.
Enjoyed this article?
Found it interesting, entertaining, useful, or informative? Maybe it even saved you some money. That's great to hear! Sadly, independent publishing is struggling worse than ever, and Thumbsticks is no exception. So please, if you can afford to, consider supporting us via Patreon or buying us a coffee.
We ranked every fictional video game in The Simpsons
We ranked every fictional video game featured in The Simpsons. Why? Because lockdown does funny things. It changes you.
We ranked every fictional video game featured in The Simpsons. Why? Because lockdown does funny things. It changes you.
From the over-the-top 80s action of McBain movies to the legitimately brilliant Planet of the Apes – the musical, not the planet – The Simpsons has parodied a wide array of 20th/21st century pop culture. But as you can (hopefully) tell by the name and content of the site, we're here to talk games.
There has been a lot of video game-related stuff on the show over the years, from parodies to completely fictional games – check out some great Nintendo references here – but what if these fictional games were real? What if we had access to a certain slipper-wearing Professor from the year 3000's fabled 'What If' machine?
We've scoured 31 years of history to bring you a ranking of every fictional game in The Simpsons.
Disclaimer: Only games that have clear footage and a name have been included. That sadly means no Nuke Canada, no Assassins Creed Summer of Love, or the retro game Bart plays with Grandpa. Zii Sports and Dance Dance Evolution weren't included either as they are too close to their real-world counterparts.
So join us as we rank the various fictional games in The Simpsons as if they were real.
40. Billy Graham's Bible Blaster
A fun retro curiosity, but considering this deposited some cash into Billy Graham's heavenly bank account, let's just move on.
39. Word Jammers
Take my word for it, this game is definitely not your jam.
38. Astro Blast
It doesn't take an astrophysicist to work out that this game is a ripoff of Asteroids.
37. Kevin Costner's Waterworld
More like Dull-as-Dishwaterworld and a rip-off to boot. A game to avoid.
36. Bowling 2000
Having 2000 in the title doesn't do much for this mediocre Game Boy bowling game.
35. Frosty The Hitman
The only hit you'll get with this game is the road.
34. Mixed Martian Arts
This game doesn't have anything positive to say about it to warrant the "mixed Martian bag" joke I so desperately wanted to say.
33. Grand Theft Walrus
I am the egg man. They are the egg men. I am the Grand Theft Walrus (an insignificant game not worth remembering). Amazing how many of these titles are built purely around a pun, isn't it?
32. Low-Blow Boxing
As entertaining as giving yourself a low blow. Maybe less so.
31. Fruit Shoot
A simplistic light gun game that's not worth one of your five a day.
30. Rocky III vs Clara Peller
Why does this game exist? The only adequate answer I can come up with is so that I could write the following sentence: Clara Peller found her beef… and it's with Sylvester Stallone.
29. Baby Blast
Nintendo tried to nuke this unlicensed baby boomer from orbit, but alas failed. It lives on through various Gameboy emulators.
28. The Iceman Killeth
Met with an icy reception when it released on the Xbox 360, it's best to give this abominable snowman FPS the cold shoulder and move on.
27. Marching Band
After the success of Guitar Hero and Rockband, Activision stumped the world with Marching Band. The E3 reveal is still one of the most baffling moments of the trade shows history, up there with Mr Caffeine and the vitality sensor.
26. Dash Dingo
Dash Dingo ate my Crystal Baby. That's all you need to know about this average 3D platformer that belongs with the rest of the Z-list heroes from the fifth generation. Maybe in an upside-down Downunderverse, Dash was as successful as his bandicoot brethren, but sadly, not in our world.
25. Tandem Bike Ride With Your Mum
Released on the ill-fated Gizmondo handheld console – and if you can get past the just passable gameplay – Tandem Bike Ride With Your Mum earns some respect for including a mother into a medium that favours fathers.
24. Stickball
The old arcade game Stickball would be a good candidate for a modern-day remake. Imagine a fully realised downtown New York that replicates the feeling of playing street baseball with a ragtag selection of neighbourhood kids.
23. Plague Station 3
Much like how the 2003 third-person shooter Armed and Dangerous is only remembered for the gun that shoots land sharks, Plague Station 3 will only be remembered for the gun that shoots monkeys that claw at the enemies face.
22. Waltz Waltz Revolution
Although not very successful, the using of a dance mat to teach actual dancing was a novel idea.
21. Bar Brawl 4: Final Fracas
The only memorable aspect of Bar Brawl 4 is that it introduced a slipping mechanic into a fighting game a full year before Super Smash Bros Brawl would do the same. Was Sakurai inspired by this game? Anything is possible.
20. Halloween Hit & Run
Halloween Hit & Run is what happens when you take the infamous hit and run scene from Troma's Toxic Avenger and make a whole game out of it. Not to be confused with the Halloween level from the not-in-universe Simpsons Hit and Run.
19. Cat Fight
In spite of all the stereotypes this game perpetuates (and some rather questionable language) it contains far less sexualisation of women than your typical fighting game, and as a result, must be commended.
18. Virtual Doctor
Released for PC in 2000, Virtual Doctor was a passion project of Yuji Hori, the creator of Dragon Quest. Unfortunately for Hori, Virtual Doctor was a huge failure and coupled with the delays of Dragon Quest VII and later Dragon Quest Monsters 2, left publisher Enix badly bruised. Thankfully, the merger with Square Soft in 2003 allowed Enix to recover – just what the (virtual) doctor ordered.
17. Earthland Realms
Unless someone asks you for a much better alternative, the MMORPG Earthland Realms will not make you say "wow."
16. Cereal Killer
Have you ever felt the need to take out your anger on a bunch of whimsical breakfast cereal mascots? If so, then Cereal Killer is the game for you. It's also the only FPS (out of barely 20) on Nintendo's Gameboy Advance that lets you wield two weapons at the same time. How's that for going against the grain?
15. Triangle Wars
An ingenious blend of Asteroids and Tetris, Triangle Wars had a surprisingly deep plot. The three warring factions of the Isosceles, the Equilateral and the Scalene all attempting to reach the furthest point of the Euclidean Galaxy to ascend to the realm of higher dimensional beings, the Simplex.
14. Death Kill City II: Death Kill Stories
Usually abbreviated as DKC (and confused with a certain Nintendo 2D platformer series) Death Kill Stories II is known for its shocking plot twist. In an attempt to out edgy its rivals, the first level in DKC II destroys all life on earth. A race of vampiric robo-mutants arise from the depths of the ruined earth and become your next target. Considering the first DKC was simply a GTA clone, this new post-apocalyptic setting was a nice change of pace.
13. Hockey Dad
Probably the only hockey/fighting game hybrid in existence, Hockey Dad should be applauded for its genre-defying antics – oh and introducing drunken dad Chuck Shadowski into the pantheon of great games characters.
12. Guts of War II: Entrails of Intestinox
After God of War 2 director Cory Balrog left Santa Monica Studio to hone his craft on his creative walkabout, he was asked to work on the sequel to Guts of War. Originally hesitant to work on a franchise so similar to his previous work, he came to the conclusion that the intestinal weapons of Guts of War protagonist, Kranus, were different enough to give the game its own personality. Entrails of Intestinox was fairly well-received but criticised for its notorious short length and for allegations of a strenuous crunch period the developers went through.
11. Escape from Grandma's House
It's rumoured that Escape From Grandma's House was the inspiration behind Resident Evil 3's Nemesis. Capcom has yet to confirm this.
10. Yard Work Simulator
The original plans for Yard Work Simulator included far more controllers than the final product's garden shears and rake controllers. One can only imagine what the planned wheelbarrow, garden hose and long-handled spade shovel controllers would've brought to this fairly simple virtual reality experiment. (And how much landfill they would've produced, like so many Wii peripherals and plastic guitars.)
9. Panamanian Strongman
A peculiar arcade game where you try to keep balance on top of a skyscraper whilst fending off the US Military's fighter planes. Kojima, take note: This is how you integrate a fun balance mechanic into your game.
8. Lee Carvallo's Putting Challenge
Lee Carvallo's Putting Challenge was one of the few games to have its cartridge enhanced by the 3F07 chip. This allowed the game to have an abundance of digitised voice clips recorded by Lee Carvallo himself. By no means the best golf game of this era, it was unique in that it felt like Carvallo was right there in your living room, helping you perfect your swing with his insightful suggestions.
What seemed like a death knell – releasing at the same time as the mighty Bonestorm – was actually a surprising boon. Many a parent opted for Carvallo as a runner-up prize when they realised that Bonestorm would be sold out long through the Christmas period.
7. Larry the Looter
Before Grand Theft Auto, there was Larry the Looter. A fairly difficult arcade loot 'em up, you'll have to have fast reactions to avoid the shotgun blasts of the poor shopkeepers protecting their property. The genius of Larry the Looter though, was it's lack of exposition; it never bores the player with an explanation of why Larry's world was tormented by mass riots and instead leaves this to the player's imagination. You dropped into this mad world as your primal instincts kick in and force you to stick it to the man.
6. Disembowler IV
Much like how Luigi's Mansion originally started out as a fishing game prototype, so too did Disembowler IV. After the success of Doom and Mortal Kombat in the early 90s, many companies tried to cash in on this violent video game craze, and Disembowler IV was born. The eponymous rusty hooks that the cast of convicted criminals use are a callback to the game's origin. Don't be fooled by the sneaky Roman numerals, however – there was no Disembowler I, II and III. This was merely a marketing gimmick that actually led to significant sales.
5. Touch of Death
Initiate the dreaded 'Touch of Death' and exorcise the ghost from your beaten enemies corpse in this classic arcade fighter. Touch of Death's popularity was due to it's simple yet accessible control scheme with its three attack buttons – oh, and ninjas. Everyone loves ninjas. Although Touch of Death has a reputation as a Mortal Kombat klone, it actually released two years before the first Mortal Kombat.
4. Super Slugfest
In a lot of ways, Super Slugfest was superior to Nintendo's Punch-Out!! – just take one look at the graphics – but a lack of celebrity endorsement meant it was always second fiddle. Mike Tyson carried Punch-Out!! to incredible success, which was a shame for Super Slugfest as it had a highly entertaining multiplayer mode that its Nintendo counterpart lacked.
3. My Dinner with Andre
The phrase "ahead of its time" has been overused aplenty, but the licensed video game adaptation of Louis Malle's 1981 classic My Dinner with Andre is undoubtedly ahead of its time. In an era where a film would translate into a 2D run-and-gun or beat 'em up, the ambitious developers of My Dinner With Andre explored new territory with this interactive dialogue pioneer that predates Mass Effect, Telltale, games and various immersive and dating sims. "Tell me more" indeed.
2. Escape From Death Row
It should come as no surprise that Escape From Death Row was made by the same developers as Larry the Looter. You can see their anti-establishment DNA all over Death Row, from the prison escape scenario to a conservative judge as an antagonist you must overcome. Although the platforming was fairly weak compared to its contemporaries, the 'change of venue' system was an interesting mechanic that gave the player a risky last-ditch effort if they felt there time was nearly up.
1. Bonestorm
The iconic fighting game that sent many a parent/guardian to hell with its boisterous "Buy me Bonestorm or go to Hell!" marketing campaign, Bonestorm led to a gory Christmas for many in 1995. As the name suggests, Bonestorm is a cacophony of blood and guts and probably the best Mortal Kombat klone in existence (sorry, Killer Instinct). The only blemish on this ultra-violent fighting game is the archaic eight-letter limit for choosing a name.
---
You should follow Thumbsticks on Flipboard, Facebook, Google News, and Twitter for daily video game nonsense. You know, only if you want to.
Enjoyed this article?
Found it interesting, entertaining, useful, or informative? Maybe it even saved you some money. That's great to hear! Sadly, independent publishing is struggling worse than ever, and Thumbsticks is no exception. So please, if you can afford to, consider supporting us via Patreon or buying us a coffee.