Framing the story: Jason Roberts on the making of Gorogoa
In his talk at GDC 2018, Buried Signal's Jason Roberts spoke about the themes and complex design process of his meditative point-and-click adventure, Gorogoa.
In his talk at GDC 2018, Buried Signal's Jason Roberts spoke about the themes and complex design process of his meditative point-and-click adventure, Gorogoa.
On its release last December, Gorogoa received glowing reviews, with critics praising its intricate design, melancholic atmosphere, and emotional impact. Its achievements were also recognised at this year's Game Developers Choice Awards, where it won the award for Best Mobile Game.
Gorogoa is all the more remarkable for being Roberts' first game, taking over five years from inception to release. Beginning his talk, Roberts says the extended development time was unavoidable given his lack of experience.
"You cant skip the learning process when making games," he says. "The conventional wisdom is to start with something simple, finish it, move on, do something slightly more ambitious, finish that, and move on."
"I think Gorogoa is not actually a counter example to that, but I think that inexperience added years to the project. I ended up throwing out a lot of prematurely polished work, and I maybe even learned more slowly because I think some lessons you can only learn by finishing something."
Narrative structure
The first demo for Gorogoa was released in 2012. Conceptually, its core elements were in place, but Roberts admits it was not a fully complete articulation of his vision. The response, however, was positive, with players praising the demo's dreamlike qualities. What it lacked – and what took many years to come together – was its story and themes.
"I had to find a way to build a story structure with stronger thematic through-lines," Roberts explains. "You should decide what story you want to tell, and then decide which mechanics express that story. In practice, I think it often goes the other way, and that the process of discovering what story to tell, and what themes to express, is both conscious and unconscious."
Prior to starting work on Gorogoa, Roberts also spent time developing ideas for a comic book, and although the project remains unfinished, the exercise proved useful, and influential.
"It was composing the page that interested me more than telling a sequential story," Roberts says. "This patchwork, or mosaic of framed scenes, is what I found compelling. I had to do something with it, even if it wasn't a comic."
The fundamental building block of most comic books – and Gorogoa – is a single, framed image. And this is where Roberts found inspiration.
"With the exception of virtual reality, everything we consume is inside a frame, whether it's the edge of a TV, the edge of a phone, or the edge of a movie screen," Roberts says. "We've learned to forget that the frame is there. That's what we mean by immersion. You forget the room you're in, you forget the world you're in, you mentally project yourself through the screen into the world on other side. It's like virtual reality though sheer will power."
However, there is also space outside of the frame, says Roberts, and that space is fertile for design and gameplay.
"By working on a comic I found that you can't ignore the frame, because your mind doesn't disappear inside any one frame for very long. You have to pull all your consciousness back out, and move on to the next. So the frame becomes visible. That's what got my attention. That's what got me started down this design path."
Framing the message
Gorogoa starts with a frame, and a large white empty space. To the player, the decision to leave that space empty is obviously intentional, and a clue that manipulation of frames is central to Gorogoa's gameplay. Roberts asserts that this manipulation also makes it part of the game's message.
"It's subtle, but I think the frame has a poignancy to it. If you imagine sitting in a room looking at window, whatever you see out there, you can't really be a part of it; you can't reach it, you can't touch it. All you can do is send your mind out to the window," he says.
"Also, a frame is a clue. If I put a frame around something, I'm clearly trying to say something. I'm sending a message. It's guiding you to something. Shrinking the focus concentrates significance.
"A frame represents curation, it isn't neutral. It cares about what it contains. It's making a choice about what to include and what to exclude. A frame is an act of affection. You see things inside a frame because they're precious. A frame is mysterious. Because you can see a space outside the frame, your attention is drawn to the limit of what you can see.
"A frame is like a prison. It's a box or a fence around whatever's inside. And I think that creates an unconscious tension. If you see a prison, you want to see an escape. On some level you want to see the frame broken or transcended."
And once multiple frames come into play, the player's brain tries to make associations between them, like the piecing together of a cinematic montage to tell a coherent story.
"Your inner-conspiracy theorist starts connecting red strings back and forth," explains Roberts. "That larger possibility space of how the frames could be connected is what led me away from sequential story-telling, because that's only one axis of connection."
This search for connections became a narrative theme, but the challenge remained of how to turn these concepts into a game. Wanting to avoid complex rules, Roberts decided upon the simplicity of a jigsaw, the most literal way two things can connect visually into a single image. This concept also helped address the tension of escaping the frame by creating illusions that play with subjectivity and perspective.
A visual acrostic
Roberts wanted Gorogoa to explore a world of hidden potential – where ordinary objects becoming extraordinary – and simultaneously, the human compulsion to look for meaning.
"It requires us to look closely and carefully at things for a second layer of meaning," says Roberts. "It's something humans have always yearned to believe, I think, that there are secret compartments or meaning in the world around us that were put there by something larger and invisible."
Roberts considers the core mechanic of Gorogoa to be a visual acrostic. An acrostic – for simpletons like me who didn't know – is a poem where the first letter of each line forms a vertical word.
"It's an almost literal depiction of transcendent meaning. If you look at only the expected form, reading horizontally, you're missing something essential. The answer lies on an invisible axis. You have to rotate your perception out of that axis."
In Gorogoa this is reflected in environmental elements that have two axes of meaning. In one example Roberts shows an image that represents the tracks on a train map from one perspective, but part of a ladder from another.
"Everything has a dual nature. That was an essential principle of the design," Roberts explains. "Sometimes I will build scenes in the game so that they allow me to include a lot of exotic, varied objects in one place, like a museum, or a basement where religious artefacts are being stored, so it's a bit of cheat, but the point is that everything should have that duality of meaning. I had to work very to ensure that nothing in the world should look like it's just there just to be part of a puzzle."
A story inside a puzzle
Another question Roberts had to answer was what kind of story does it make sense to tell with these mechanics.
"It was a question I asked very late in the process. I felt my way to this solution before I was able to think about it consciously," he admits. "The basic question is how to combine puzzles and narrative? There's a tried and true approach, which is the puzzles are obstacles for the protagonist in a typical dramatic narrative, but Gorogoa doesn't work that way at all. Instead of puzzles inside a story, it's a story suspended inside a puzzle."
Gorogoa's puzzles are as much about discovering and uncovering the story as they are about advancing it. With the absence of a traditional narrative structure, Roberts approached the story as something more akin to a parable.
"A parable is instructive, it's an act of communication, typically there to teach a lesson of some kind. It doesn't just exist to provide dramatic satisfaction," he says.
As Roberts explains, a parable is itself a puzzle, with a second layer of meaning to be uncovered and understood.
"The act of solving the riddle is part of the message of the parable. A parable that requires this kind of unlocking as a second condition to whatever its specific lesson is, it has a second, more general lesson about how to look for meaning in the world."
As for the lesson that Gorogoa's parable teaches the player?
"It is meant to be a story about the character, but also it's meant to be structured and read as a fable." he says. "It is an attempt to look at a pieces and fragments of a real life and retroactively impose the structure of a parable upon that life. The story of the game, and how it comes across, is one of the things I'm most uncertain about in the end product. I will leave the rest up to your interpretation."
Gorogoa is available now on PC, PlayStation 4 Nintendo Switch, Xbox One, iOS and Android.
---
More from GDC 18
Dan Marshall: It was 'astonishingly easy' to add accessibility options
Dan Marshall, of Size Five Games, says adding accessibility features to Lair of the Clockwork God was "all pretty straightforward, easy work."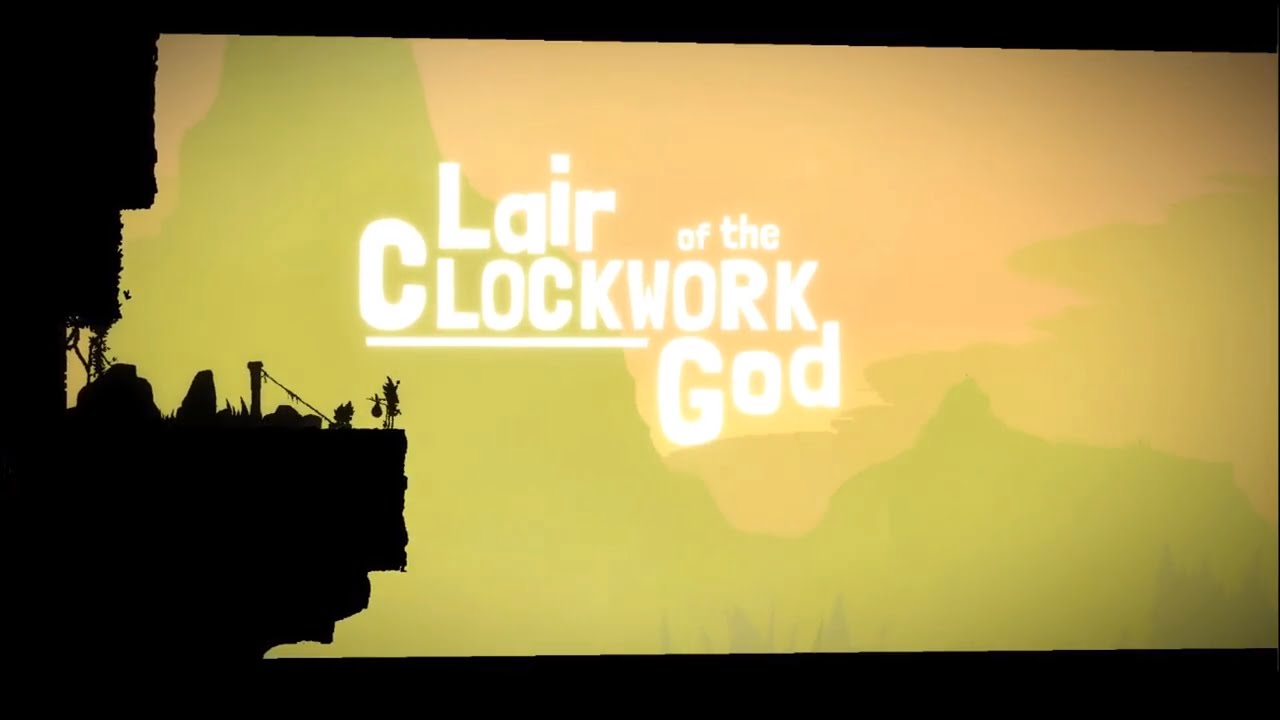 Dan Marshall, of Size Five Games, says adding accessibility features to Lair of the Clockwork God was "all pretty straightforward, easy work."
The year is 2020. Technology has never been more advanced. And yet, we live in a bizarre, regressive world where anti-vaxxers are on the rise, the UK is leaving the EU of its own volition, and the President of the United States yells at an autistic teenage girl for daring to suggest that his generation perhaps doesn't ruin the planet for future generations.
In the world of video games, one obvious symptom of this intellectual vacuum is the anti-accessibility crowd. From gatekeepers who want to preserve the rarity of their "achievements" to those who are simply incapable of human empathy, there are still people who don't believe video games need accessibility features. In 2020.
They're dead wrong, by the way. (And if you disagree with that, maybe don't read our website? We're big advocates of accessibility in games and we're frankly better off without you, thanks.)
Dan Marshall, of Size Five Games, spent a few hours this weekend adding accessibility features to upcoming game Lair of the Clockwork God. A sequel to Time Gentlemen, Please! and Ben There, Dan That!, Clockwork God is a mash-up of indie platformer and the series' classic point-and-click adventure mechanics. It's obviously a text-heavy game.
We spoke to Marshall via email, to ask about the process of making Lair of the Clockwork God more accessible, and why it's important.
"I have been useless at all this stuff," Dan concedes, "but the reality is it's always good to make sure the game can be enjoyed by as many people as possible. Getting a game out the door is hard, and I do think it's understandable when this kind of stuff hasn't been implemented, because that pre-launch to-do list is so incredibly long, and especially for smaller indies who have such astonishingly low resources."
"So for me, this kind of thing has always sadly fallen off the back burner," he continues. "This time around I'm in the fortunate position to have the cash and resources behind me to spend a little time thinking about and implementing a few minor changes, that make the game so much more enjoyable for so many people."
Added some accessibility options for #ClockworkGod's dialogue system. If there's anything else you think I should add, please let me know 🙂#indiedev #gameDev #screenshotSaturday pic.twitter.com/12Be4wwS7l

— Dan Marshall (@danthat) January 25, 2020
"Oddly enough, Lair of the Clockwork God's themes kind of deal with all this," Marshall explains. "By the nature of the beast, that it's written by and starring two straight white guys… I mean, there's obviously nothing we can do about that, so we've tried to be mindful every step of the way making sure the game is as inclusive elsewhere as possible."
"The script itself deals head-on with topics like the 'wokeness' of the indie scene, or getting older and feeling out of place with new trends and other peoples' needs… y'know in the game Ben's this kind of relic from the LucasArts era, and Dan's desperately keen to be part of this new vibrant indie movement he's heard so much about, so taking the steps to make the whole game as accessible as possible kind of goes hand-in-hand with all that."
So how easy has the process been, to add accessibility options to Lair of the Clockwork God?
"Astonishingly easy, to be honest. I spent about 4-5 hours total adding 9 core changes (including some that people had recommended over Twitter), and honestly," Marshall says, "it was all pretty straightforward, easy work, which is exactly what I need right now. In the scheme of things, that's probably less time than I spent choosing the colour of the options menu, so it's worth doing."
"And yeah, some of it was just unbelievably quick. Two lines of code and a new toggle added to the menu and it's in. So why not do it? There's obviously some bigger stuff that's likely to let's say, break everything, and I'll do my best to get them in before launch. Lesson learned for the next project is: it's just sensible to keep this stuff in mind the whole way through!"
For little more than an afternoon's work, Lair of the Clockwork God is now a far more accessible experience.
Clockwork God now includes options for a dyslexic-friendly font, and adjusting the size, colour, speed, and labelling of text to make it easier for everyone to follow. This might not seem like a big deal if you don't need it, but it will literally be the difference between someone being able to play the game or bouncing off it.
The year is 2020. Fictional Ben may be insistent that Lair of the Clockwork God's mechanics stay rooted in 1991, but just like his in-game counterpart, real-life Dan is making sure it's a modern video game, too.
---
Follow Thumbsticks on Twitter for the best video game stories. Got something you'd like to share with us? Our DMs are open.