Save on Elite Dangerous, Planet Coaster and more Frontier Developments games
The Humble Frontier Developments sale is now on.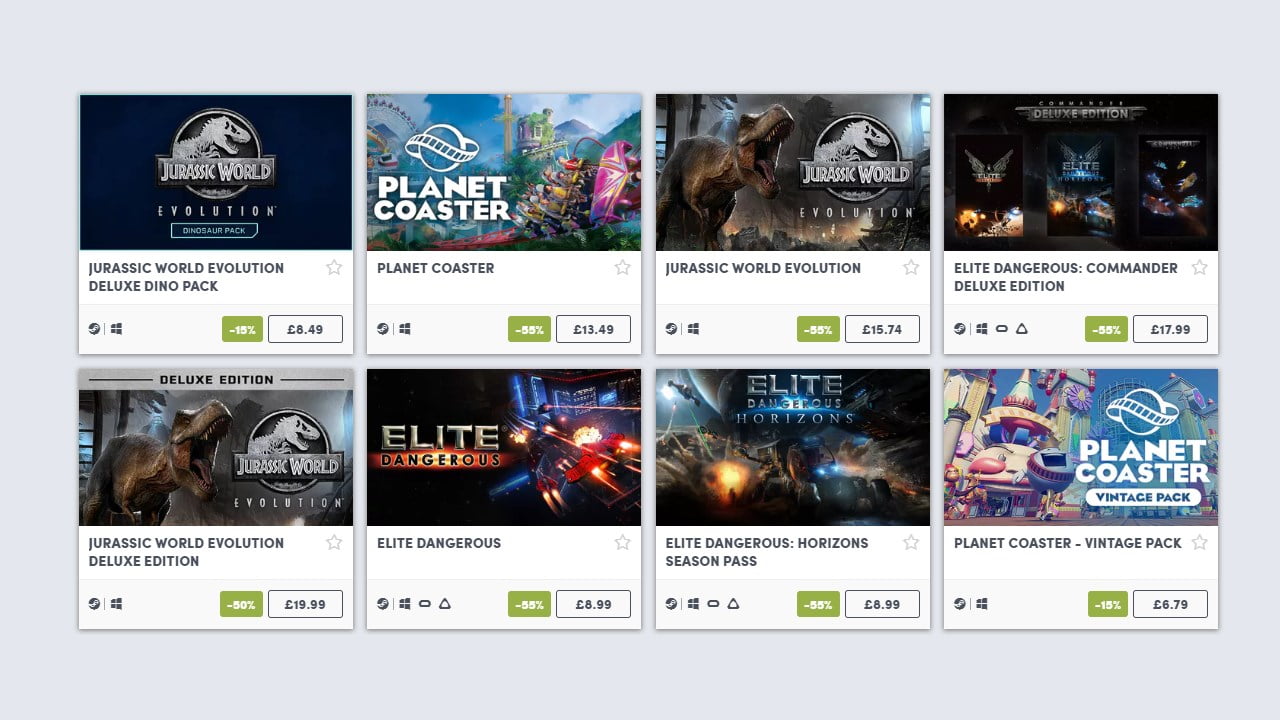 The Humble Frontier Developments sale is now on.
Frontier Developments, David Braben's legendary studio, specialises in games with a lot of depth. Whether that's exploring the galaxy in Elite Dangerous or building dangerous theme parks – Jurassic or regular – Frontier's games always mix strategy and stickiness for a perfect storm of time-sinking.
Right now, over on the Humble Store, you can pick up some big savings on games from Frontier Developments.
There is, of course, Elite Dangerous. It would be a funny kind of Frontier Developments sale without the game series the studio is most famous for. You'll find 55% off the base game, the Commander Deluxe edition, and the season pass. If you only need to pick up some of the DLC to complete your collection, that's all available individually with 35% off.
Then there are the theme parks. Jurassic World Evolution is 55% off, with 50% off the deluxe edition, and 15% off the individual bits of DLC. You'll also save 55% on Planet Coaster, with 15% off all its DLC too – and there's a lot of DLC in this instance, too.
Oh, and also, Lostwinds and Lostwinds 2. That's in there, too.
The Humble Frontier Developments sale is on right now, and runs through until Friday, April 12th, at 10am Pacific (or 6pm BST). As ever with the Humble store, all purchases made will raise money for good causes.
We may receive a small commission for purchases made from online stores.
Indie adventure Windbound looks like Breath of the Wind Waker
Take the mechanics of Breath of the Wild and splice it together with the heart of Wind Waker, and you've got something close to Windbound.
Take the mechanics of Breath of the Wild and splice it together with the heart of Wind Waker, and you've got something close to Windbound.
At the time, with its cartoon cel-shading and Kevin Costner's Waterworld version of Hyrule, people sneered at The Legend of Zelda: The Wind Waker. Sandwiched between the darker Majora's Mask on the N64 and Twilight Princess on the Wii, Wind Waker was critically acclaimed, but not terribly well-received by fans.
It's funny how often fan opinions age badly, isn't it? Wind Waker is now widely regarded as one of the highlights of the series. It also spawned two direct sequels – The Phantom Hourglass and Spirit Tracks – which is a rarity for the series, and its meandering open-world clearly formed part of the blueprint for 2017's Breath of the Wild.
Announced today by developer 5 Lives Studios – the team behind Satellite Reign – and publisher Deep Silver, indie adventure Windbound clearly carries the spirit of both Wind Waker and Breath of the Wild in its DNA. (With a touch of Rime's puzzling and The Flame in the Flood's survival thrown in for good measure.)
The accompanying press release reads:
"Created by Australian developer 5 Lives Studios, Windbound is a beautiful rogue-like 3rd-person survival adventure, fuelled by hunting, exploration and crafting. The player assumes the role of Kara who has been shipwrecked on an unknown land and must learn to adapt and survive, while solving the mysteries of a series of forgotten islands.

Windbound takes the survival genre in a new direction, focusing on nomadic hunting and exploration, together with custom boat building and an immersive tactile sailing experience. The game provides endless replayability options thanks to the procedural world, dynamic wildlife and modular boat crafting."
Windbound will release for PC, PS4, Xbox One and Nintendo Switch on August 28, 2020. That's a smart move by 5 Lives Studios and Deep Silver – if you get the news of the Switch version out of the way early, it'll stop people begging for it incessantly.
---
Follow Thumbsticks on Facebook, Google News, Twitter, and Flipboard for regular video game news updates.