Is Microsoft sowing seeds for Xbox to win the next console generation?
The Xbox One may have lost this console generation, but Microsoft is laying the groundwork to win the next.
The Xbox One may have lost this console generation, but Microsoft is laying the groundwork to win the next.
The current console generation is now in its fifth year. Sony's PlayStation 4 is out in front, with over 73 millions units sold through to retail, and an enviable list of top-rated exclusive games. The Xbox One trails with an estimated 36 million consoles sold (Microsoft stopped releasing official sales figures long ago), and a solid, but relatively underwhelming, roster of exclusives.
The reasons for the Xbox One's bungled launch are well-documented. However, despite its troubled birth, the console, and the Xbox brand as a whole, has seen a clear upturn in fortunes since Phil Spencer replaced Don Mattrick as head of Xbox in 2014. A combination of the family-friendly Xbox One S, the high-end Xbox One X, and the timed console exclusivity for PlayerUnknown's Battlegrounds, has helped the Xbox One feel relevant for the first time in a long time.
Nonetheless, the script for this generation is written, and the PlayStation 4 is the clear winner. However, that doesn't mean Microsoft can't steal back the crown, and it's carefully been preparing to do so.
Hardware
When a console is top-dog in a generation, it's difficult to imagine that its position could ever change. But consider the Xbox 360. Microsoft took advantage of Sony's delayed and over-designed PlayStation 3 to grab a much larger slice of the market than many expected. The 360's eventual performance would have been unthinkable at the height of the PlayStation 2's powers. The reverse, to a lesser extent, was true this generation when Sony gave Microsoft a serious schooling in how to make consumer technology simple and appealing. And Nintendo provides examples time and time again of how a console manufacturer can bounce back from failure and find relevance.
The Xbox 360's first mover advantage mitigated the fact that the PlayStation 3 was the more powerful console. But with this generation, the perceived power differential between the Xbox One and the PlayStation 4 was an albatross from day one. It's taken an expensive new tier of hardware to silence that comparison.
With the release of the PlayStation 4 Pro and Xbox One X, there is a school of thought that suggests that the traditional console cycle has ended. It's certainly a possibility, but commercial reality will dictate that once the current generation reaches saturation a step-change in hardware will be required to reinvigorate sales. Incremental console upgrades can certainly extend this generation – and appease big publishers – but if you're in second or third place in a console war, a new box provides the best opportunity to reset the brand, and convince customers to switch back their allegiance.
Added value
With fewer sales equating to fewer game exclusives, many of Microsoft's recent Xbox One initiatives have been focused on hardware and services designed to appeal to their core audience. The justified criticism is that because the Xbox One doesn't have an extensive library of first-party games, these services add very little. This is partly true, but when the next generation arrives, they could well make the difference. These services are not just there to keep the Xbox One alive, but part of a long-term plan to support the eventual launch of Microsoft's next system. They won't change the course of this generation, but they will perhaps influence the next. The approach echoes Nintendo's retreat to its core fanbase in the wake of the Wii U's failure.
The key selling point next time round, will not necessarily be one of be one of technology – let's assume all systems will be comparatively equal in hardware terms – but of ecosystem. Players who subscribe to Xbox Live or PlayStation Plus will have access to an extensive back-catalogue of free games, friend networks, and proudly – if fruitlessly – nurtured lists of hard-earned achievements and trophies. These are services designed to make it harder to move system.
However, despite this brand loyalty, fans have short memories and can be fickle. As we see time and again, gamers have a nose for value. And new consumers entering the market will be buying consoles with an eye on the future, just as much the past.
So why is Microsoft best placed to take advantage of the next generational change?
Consumer-friendly services
With a new console coming to market, the consumer-friendly services that Microsoft has been putting into place start to look very appealing. Backwards compatibility has been a huge success on Xbox One, and won't be going away. The notion that the next Xbox will play any Xbox game, from any generation, will surely be at its core.
Game Pass, for all of the cynical 'Netflix of games' comments, is another forward-thinking move. It opens up a cross-generational range of titles in a fashion that is far more appealing than Sony's PlayStation Now streaming service. It's not just a vehicle for older titles, either; Sea of Thieves joined the Xbox Game Pass roster on launch (in spite of a minor technical issue).
And with Game Preview, Microsoft can quickly bring unexpected PC hits to console without their 'still in development' state being an issue. The Xbox One version of PUBG is some distance from being best way to enjoy the game, but four million players are evidently happy enough to make the compromise. In addition, there's the justifiable claim that Xbox Games with Gold is superior to its PlayStation Plus competitor.
Finally, niche but value added initiatives like Play Anywhere, and some overlooked but smartly designed community and reward features, and of course the integrated Mixer streaming platform, complete the package. The result is a suite of services that – given the level playing field of a new generation – could tip the balance back in Microsoft's favour.
The challenge is in managing each of these initiatives and subscriptions without them become confusing for potential customers. A tiered-approach to Xbox Live membership could be best way to streamline access.
Games
Ah, the games. Well, yes. It's a problem. The Xbox One does have a healthy range of exclusive properties, but despite their quality, the Gears, Halo, and Forza franchises are starting to feel a little tired; a little Mountain Dew, a little Doritos. The cancellation of Scalebound and the delays to Crackdown 3 haven't helped the very public perception of Xbox's lack of exclusives.
There's hope in a new a wave of exclusives, however. Sea of Thieves is the best thing Rare has worked on in years, despite its initial lack of content. It's a game that provides some much-need colour and depth to the lineup of Xbox exclusives. And if PUBG can be secured long-term – or even acquired – it would be another huge boost.
The overall lack of system sellers is something that Phil Spencer has acknowledged, and pledged to fix. This year's E3 needs to deliver. Turn Ten's mooted Fable reboot is allegedly one big Xbox exclusive on the cards, but the brand needs more than another returning franchise swing public perception.
And I'm certainly not predicting a collapse for the PlayStation. Sony's first-party software lineup speaks for itself – and initiatives like PS VR, PS Plus, and PS Now are also valuable – but the next console generation's market share is likely to have an equal split between Xbox and PlayStation.
From tiny acorns do mighty oak trees grow, and Microsoft are showing great foresight by planting a lot of acorns.
---
More from Thumbsticks
Dan Marshall: It was 'astonishingly easy' to add accessibility options
Dan Marshall, of Size Five Games, says adding accessibility features to Lair of the Clockwork God was "all pretty straightforward, easy work."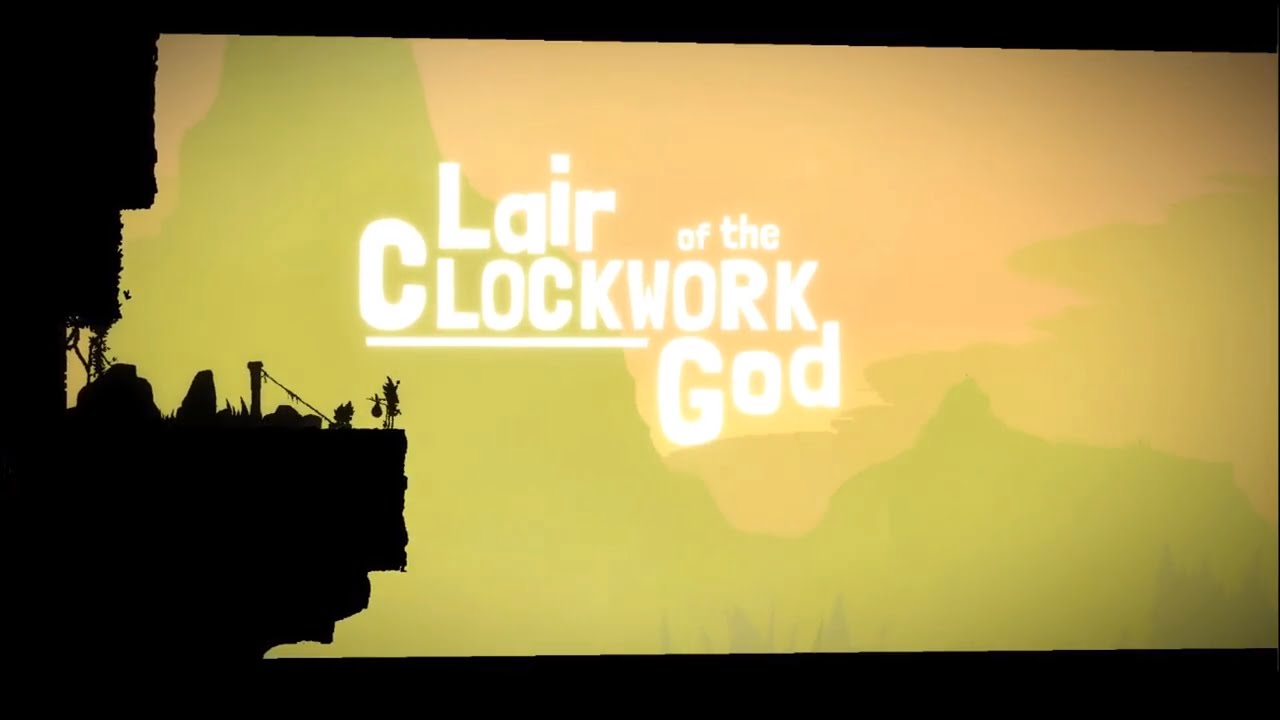 Dan Marshall, of Size Five Games, says adding accessibility features to Lair of the Clockwork God was "all pretty straightforward, easy work."
The year is 2020. Technology has never been more advanced. And yet, we live in a bizarre, regressive world where anti-vaxxers are on the rise, the UK is leaving the EU of its own volition, and the President of the United States yells at an autistic teenage girl for daring to suggest that his generation perhaps doesn't ruin the planet for future generations.
In the world of video games, one obvious symptom of this intellectual vacuum is the anti-accessibility crowd. From gatekeepers who want to preserve the rarity of their "achievements" to those who are simply incapable of human empathy, there are still people who don't believe video games need accessibility features. In 2020.
They're dead wrong, by the way. (And if you disagree with that, maybe don't read our website? We're big advocates of accessibility in games and we're frankly better off without you, thanks.)
Dan Marshall, of Size Five Games, spent a few hours this weekend adding accessibility features to upcoming game Lair of the Clockwork God. A sequel to Time Gentlemen, Please! and Ben There, Dan That!, Clockwork God is a mash-up of indie platformer and the series' classic point-and-click adventure mechanics. It's obviously a text-heavy game.
We spoke to Marshall via email, to ask about the process of making Lair of the Clockwork God more accessible, and why it's important.
"I have been useless at all this stuff," Dan concedes, "but the reality is it's always good to make sure the game can be enjoyed by as many people as possible. Getting a game out the door is hard, and I do think it's understandable when this kind of stuff hasn't been implemented, because that pre-launch to-do list is so incredibly long, and especially for smaller indies who have such astonishingly low resources."
"So for me, this kind of thing has always sadly fallen off the back burner," he continues. "This time around I'm in the fortunate position to have the cash and resources behind me to spend a little time thinking about and implementing a few minor changes, that make the game so much more enjoyable for so many people."
Added some accessibility options for #ClockworkGod's dialogue system. If there's anything else you think I should add, please let me know 🙂#indiedev #gameDev #screenshotSaturday pic.twitter.com/12Be4wwS7l

— Dan Marshall (@danthat) January 25, 2020
"Oddly enough, Lair of the Clockwork God's themes kind of deal with all this," Marshall explains. "By the nature of the beast, that it's written by and starring two straight white guys… I mean, there's obviously nothing we can do about that, so we've tried to be mindful every step of the way making sure the game is as inclusive elsewhere as possible."
"The script itself deals head-on with topics like the 'wokeness' of the indie scene, or getting older and feeling out of place with new trends and other peoples' needs… y'know in the game Ben's this kind of relic from the LucasArts era, and Dan's desperately keen to be part of this new vibrant indie movement he's heard so much about, so taking the steps to make the whole game as accessible as possible kind of goes hand-in-hand with all that."
So how easy has the process been, to add accessibility options to Lair of the Clockwork God?
"Astonishingly easy, to be honest. I spent about 4-5 hours total adding 9 core changes (including some that people had recommended over Twitter), and honestly," Marshall says, "it was all pretty straightforward, easy work, which is exactly what I need right now. In the scheme of things, that's probably less time than I spent choosing the colour of the options menu, so it's worth doing."
"And yeah, some of it was just unbelievably quick. Two lines of code and a new toggle added to the menu and it's in. So why not do it? There's obviously some bigger stuff that's likely to let's say, break everything, and I'll do my best to get them in before launch. Lesson learned for the next project is: it's just sensible to keep this stuff in mind the whole way through!"
For little more than an afternoon's work, Lair of the Clockwork God is now a far more accessible experience.
Clockwork God now includes options for a dyslexic-friendly font, and adjusting the size, colour, speed, and labelling of text to make it easier for everyone to follow. This might not seem like a big deal if you don't need it, but it will literally be the difference between someone being able to play the game or bouncing off it.
The year is 2020. Fictional Ben may be insistent that Lair of the Clockwork God's mechanics stay rooted in 1991, but just like his in-game counterpart, real-life Dan is making sure it's a modern video game, too.
---
Follow Thumbsticks on Twitter for the best video game stories. Got something you'd like to share with us? Our DMs are open.